An editorial on corporates across Europe for Dow Jones's simply-communicate in London.
Inside Story on NOTW hacking scandal
"Everyone knows how the Rupert Murdoch story ended: with a kind of giant heave of revulsion at what his employees had been up to and with a multi-million pound merger stopped in its tracks by the most overwhelming parliamentary vote anyone can remember," says Alan Rusbridger, Editor of the Guardian as he pens down his thoughts for the recently released, Guardian Shots, that reveals how the Guardian continued to pursue the story.
Deeply ingrained in arrests, drowned in numerous civil actions, the phone hacking scandal stands as one isolated case that has shaken prolific aspects of British and American civic life. Policing, politics, media and regulation all stand in chaos and embarrassment.
The man who broke this explosive story, Nick Davies, Special Correspondent at the National News Desk at the Guardian spoke to simply-communicate humbly explaining how he got to the end of the story.
"Simply, I had a phone call from somebody who knew the truth and who wanted me to bring it out."
At a time when the majority of Fleet Street were turning a blind eye to the phone-hacking issue, Davies continued to religiously pursue the case and remorselessly produce one revelatory story after another.
When it all began: 2006
News of the World's royal editor, Clive Goodman, writes a story about Prince William's injured knee. The first seeds of suspicion are sown. Suspicions leads police officials to interrogate deeper into the matter and arrest Goodman and the private investigator, Glenn Mulcaire on charges of intercepting the voice-mail messages of three employees of the royalty.
In a recent report published by the Guardian, Nick Davies reveals that Clive Goodman, on being imprisoned in 2007, wrote a letter to News International's (NI) HR chief, Daniel Clark. In the letter, Goodman appeals against the decision of News International to terminate his employment and points to the promise of a secure job made by NOTW editor Colin Myler and Tom Crone, the paper's legal boss, on grounds of maintaining silence while in prison so that the paper does not get implicated.
Though Goodman was sacked from his job at the News of the World after his conviction, he subsequently received payments from News International totaling £243,500—far more than the company has admitted.
"Does the letter imply that Goodman was offered an inducement to withhold knowledge of criminality from the police and courts?" Davies questions in his revelatory report.
Murdoch openly denied any phone hacking culture amid these allegations.
Guardian's continuous efforts to investigate into further such cases of wrongdoing withinNOTW lead the Press Complaints Commission in May 2007 to publish its first hacking report confirming no reports of wider wrongdoing. Myler was able to prove that Goodman was just one rogue case who had deceived the employer.
Hacking revisited: 2009
In 2009, the Guardian reopened the story.
Reports revealed that NOTW paid £1 million to settle legal cases that threatened to reveal more incidents of wrongdoing within the organisation. In addition, the Metropolitan Police had not alerted those whose phones had been targeted and the Crown prosecution service had failed to pursue possible charges against News Corp.
In the same year, it was revealed that NOTW paid £700,000 as out of court settlement in legal costs and damages and asked the court to seal the case that Gordon Taylor, Chief Executive of the Professional Footballer's Association had alleged against NOTW on grounds of his phone having been hacked.
What was most interesting to view around this time was the way David Cameron and George Osborn continued to embrace Andy Coulson with a protective arm and insisted that their communications director would not be forced to stand down.
In 2010, the Guardian names more hacking victims. NOTW continues to settle legal cases out of court. There are confirmed reports that link Andy Coulson to four private investigators. These recurring incidents lead former Deputy Prime Minister, John Prescott to call for a judicial review.
On being asked if it bothered him that he was a lonely figure in reporting these events and if he would continue to pursue this agenda further with other newspapers, Davies says, "We have to follow the evidence wherever it leads."
Despite confirmed reports, the Press Commission failed to investigate and garner further evidence. What followed and carried into 2011 were a slew of confessions and criminal convictions.
Explosive revelations
The most explosive evidence that shook News International was the revelation of the Milly Dowler case.
Rusbridger recalls, "What caused a surge of revulsion was the revelation that Nick Davies made about the NOTW journalist hacking into the phone calls of the missing Milly Dowler, deleting her voice mails so that they could listen to new ones. Rarely has a single story had such a volcanic effect."
Operation Weeting launched
The initiative launched in 2011 to investigate the allegations of phone hacking, conducted alongside Operation Elveden looking into allegations of inappropriate payments to the police by the alleged hackers.
It was revealed in March 2011 that Jonathan Rees, previously convicted of murder was hired by NOTW as a private investigator. Links have been established between Rees and corrupt officials who earned £150,000 a year from NOTW for supplying illegally obtained information.
In light of the above issues, Davies categorically says, "Bribing is illegal. We're not allowed to do it. I've never paid a cent of a bribe, nor ever seen the need to. If there are skills in reporting, the most important of them are around persuading people to talk to us – bribing officials or police doesn't come into it."
Academic insight
Paul Dwyer, a former BBC journalist and currently the course leader of International Business Media at University of Westminster, shares his views on why phone hacking at newspapers was not uncovered earlier, considering it was common practice at Fleet Street.
"It is complicated. Police officials always assumed that you didn't prosecute Journalists considering they were ostensibly involved in public interest activities. Journalists were always after the bad guys and the police was always after the bad guys," says Dwyer.
He adds, "Another reason was that other newspapers didn't want to report it. The problem is that we have a tradition of self-regulation in the press. So like doctors and lawyers, you take it for granted that they are professionals and you trust them."
Rupert Murdoch
In a recent event at the LSE, 'What's next for Rupert Murdoch', biographer Michael Wolff and author of 'The Man who Sold the News', gave an inside look at the controversial newspaper publisher.
"He has built an empire around tabloid newspapers whose raison d'être is to catch people in their most vulnerable moments. That's what he does and that's what makes newspapers sell."
"2.7 million people read News of the World and I am sure Rupert is thinking to himself, where did they think this stuff was coming from?" he exclaims.
He points out that Murdoch is bad with dates, names and abstractions and tends to lose track of the conversation when he takes long pauses mid-sentence.
Does the fact that Murdoch has lost support from the Parliament and a vote of confidence from the public unsettle him? To this Wolff responds, "An interesting and fundamental thing about Rupert is that he doesn't seek affirmation."
Dr. Daya Thussu, Professor of International Communication at Westminster speaks of the theory of Murdochisation which refers to the excessive marketisation of journalism. "Murdoch is at the forefront of this excessive commodification of news and that news is primarily based on two things – celebrity and sport," Thussu says.
"This incident demonstrated in all its glory the toxic nexus between politics and popular press that leads to excessive marketisation of news which in turn encourages criminal offences within journalism. Hacking phones, making up stories, lying in private and public conversations are all a result of that nexus," he adds.
Dwyer believes that there must be an external body for regulation. "While I do know that people think otherwise, I do feel that this incident clearly reflects the need for an external body to regulate and monitor the media. People might argue that after all, it was theGuardian that revealed bad practice but let us not forget that it was just one paper that was consistently pursuing the issue whilst all other papers continued to ignore reporting the issue for as long as they possibly could."
What does all this mean for communicators?
Post the parliamentary committee proceedings numerous questions about the internal culture at News International and the lack of consistency in confessions made by senior management enveloped the issue.
Indranath Neology, a veteran communications consultant says, "One lesson for every business person from the NOTW scandal is that you cannot sacrifice ethics for profit. It works in the short term but in the long term the damage can destroy your reputation and your company."
He adds, "Another lesson is about the handling of the crisis – the repeated attempts to cover up bad news and wrongdoing eventually just amplified the impact when the details came out. Part of the communicator's brief is to present things in the best light possible, but this scandal highlights that two common strategies can go very badly wrong: One is a lack of clarity internally about messages being made public and two of omitting details to make things look better."
On numerous occasions companies do benefit from non-disclosure and while it is unwise to speak about details that have not been investigated enough, Neology believes that a communication plan must be in place.
Communication expert and change consultant, Tim Johns, holds the view that the communications and media profession is not alone in facing ethical dilemmas. Many people are often faced with having to make difficult decisions based on an interpretation of what is right in a given context. To have a lodestone to guide you at such moments is the first step.
Johns says, "The CIPR's Code of Conduct is an excellent example and covers areas such as professional integrity, confidentiality, competence and transparency. You also need to be aware of the rules covering market abuse, especially if you are dealing with the media."
One of the high-risk areas for communication professionals lies in conveying messages that are deliberately disingenuous that act as a smokescreen to what's really happening.
"The most difficult position to be in is having to not tell the truth. Obviously one should never lie: not only is it unethical but, as the truth has a habit of always coming out eventually, it can affect one's personal credibility. If you do find yourself in a tricky situation I would recommend sharing it with confidential advisors," Johns further explains.
Looking forward
As for long-term effects of the NOTW scandal, Davies appears relatively unphased.
"I think people may be exaggerating the long-term impact of all this. The immediate goal is to make sure that the judicial inquiry into press regulation comes up with helpful proposals," Davies points out.
---
Coca-Cola Enterprises engages employees across Western Europe
It's black. It's fizzy. It's what 85% of the population world over can't live without: Coca-Cola.
Based in Atlanta, the Coca-Cola Company produces the concentrate that is sold to licensed Coca-Cola bottlers throughout the world. One such bottler that falls under the category of the largest single Coca-Cola bottler in Western Europe is Coca-Cola Enterprises (CCE). Post purchasing the bottling rights in Netherlands, CCE began significant European expansion. Acquisition of bottling rights ensued in Belgium, France and Great Britain. It now also has Luxembourg and Monaco under its umbrella.
CCE presently has over 13,000 employees across Europe. In 2010, the Coca-Cola Company acquired all of CCE's North American territory. CCE retained its European operations and acquired bottling rights in Norway and Sweden.
Rodney Jordan is Director of Employee Communications at Coca-Cola Enterprises, overseeing British and European territories.
"Through our initiatives, we communicate to all 13,000 employees across Europe as the HR communication and employee communication department, " Jordan explains.
Presenting a more strategic insight into his role, Jordan explains how global messaging and local flexibility lie at the core of his communication strategy. "We have to make sure that things resonate the right way in a different country and culture. So we develop an enterprise wise strategy."
Structure
The communication structure at Coca Cola Enterprises is unique. It is compartmentalized into two departments – Public Affairs and Communication and HR communication.
Jordan explains, "While public affairs and communication focuses its work on public affairs, public communication and internal communication within each of the different countries, HR communication lies within HR and does broad messaging around employee engagement and the employee value proposition".
While both are separate entities, the two divisions collaborate on certain projects. Giving an example, Jordan points to the internal magazine and says, "The public affairs and communications department produces this, but we have added content to this. We both have our own set of vehicles to get across to the employees."
"Our innovation and strategy is targeted at employees and managers and our topics are different from the issues of public affairs that are focused around what's happening in the business as a whole and what's happening in different countries," he adds.
HR communication focuses on performance around development. In 2008-2009, one HR organisation evolved within CCE. With that came the need to consistently communicate with employees from an HR perspective about what was happening within the business and broaden the communications to a new HR model.
"So, it is a fairly new function of the CCE, about two years old. That is why there is a unique sort of environment at CCE," Jordan says.
While the HR communications team is based in UK and team members look over activities in all the seven European countries, it is not regionally divided; the Public affairs team is spread across a wide range of geography.
Diversity of employees
The average age of employees at CCE is around 32-33 years. Jordan speaks of a great diversity of ages, gender and culture within the organisation. He mentions a 60:40 split of wired (desk-based) employees and non-wired staff who are constantly on the move.
Jordan says the company is heavily committed to cultural sensitivity.
"Our messages are not only global but also have a regional resonance. We are very cautious of what messages we deliver, where. We translate all our messages to make sure that people really get our messages across different locations." This is particularly true with change management. When any new initiative is rolled out, Jordan and his team keep in mind the consequences of those initiatives.
Capabilities: HR communication team
Jordan highlights the varied initiatives that HR communication undertakes at CCE. Pointing to the pie (below) Jordan remarks, "This is 80% realistic and 20% aspirational. Based on the annual plan of what's going to happen, we use this to set the agenda".
Channels
Starting with the Intranet, Jordan explains the various activities taking place on the intranet to keep employees well engaged. The intranet pages are well designed and have a meticulous architecture giving sufficient space for every initiative.
My workbench is the manager's dashboard while My profile caters to employee details and updates. The underlying bed is Microsoft Sharepoint 2008 which also enables an instant messaging service.
Jordan recalls, "The intranet came into place as a result of putting one HR function in place at CCE and having a vehicle for executive and company messages. From an HR perspective, while we put a good system in place, we did not think of a way to continuously improve it. It is important to consistently improve that experience for viewers and interact regularly. We made the intranet accessible from home and kiosks and have begun a branding initiative. Also, HR managers are made to understand and monitor the traffic to reach a sound understanding of their employees' activities."
Jordan describes the HR Teamsite as a one-stop shop for HR managers and HR to Business as a monthly HR bulletin.
As for translations, Jordan lays emphasis on seeking support of one vendor to support the entire company thereby managing costs and ensuring consistency. "This is very important from a diversity point of view. We need to speak to employees in a language they understand. We decided to use one vendor for all the translations and now there is one glossary that we all use as an organisation. It is the most cost effective way because we have so many different languages and we may have additional languages in the future. We brought consistency to translations across the world and had a control on spending."
Each month, the HR Communication department holds an HR connect call which falls under the category of HR for HR. Previously the call only catered to North America and Europe. "Not everybody used to understand the same language. We hence changed the name and structure of the call in 2010 and saw the participation numbers rise from 10 to 110," Jordan recalls.
Emails, brochures, town halls and videos all fall under Ad Hoc.
Change communications
This is one of the most significant capabilities of the HR communication function. As explained by Jordan, this function is all about connecting the employees with the business. Under change communication, the biggest thing has been drawing up the Employee Value Proposition. "We developed this into a branding and messaging service. We started out by telling people that the employee engagement survey is coming this year and how that engagement survey will help us build the employee value proposition. One of the key things is people talking, listening and acting."
Explaining this initiative in further detail, he continues, "One of the tactical things we did is we gave a brochure to everyone telling them what engagement at CCE means along with what their feedback has been thus far. We developed an online news channel called CGW News (Connect, Grow, Win) that shows examples of employee engagement. We have engagement champions and have developed a section on our intranet dedicated to videos & articles about engagement. Once the survey is done, we now have a vehicle to keep the interaction ongoing. It's not just a simple project, it is the backbone of everything we do and why we do it."
Measurement
Jordan is a big fan of having sound measurement techniques in place. "We developed the brochure only to give some tangible feedback in hand that would clearly articulate the strategy. It was important to give specific feedback telling people how we would be responding to that conversation."
He explained that the team measured traffic to My profile and my My Workbench on the intranet and as a result, he now knows that managers visit the Dashboard 8 times a month and employees go to my Profile 3 times a month. "Ultimately we would want all those numbers to increase," Jordan points out.
Measurement of the traffic on the HR Teamsite revealed that from 5 daily visitors, the traffic surged to 110 daily visitors.
"We also have a commercial academy which is a consolidation of the curriculum for our employees. Be it customer management or marketing, we put it all together in the curriculum," explains Jordan.
The future
The challenge for any communication professional lies in how they add strategic value to an organisation. For Jordan it lies in the balance he achieves in how he divides the capability pie.
"I would want to spend more time in the change communication space and in making improvements to our intranet. I think those are big opportunities there. It's really just making sure that we are satisfied with the kind of support we supply so that we can always try to be better at it."
---
World Food Programme communicates to fight African food crisis
Some flee their homes in the face of war or civil strife; others may be the victims of natural disasters like floods, droughts, earthquakes and hurricanes. They all comprise one billion people across the world who struggle to get food.
"The World Food Programme is the world's largest humanitarian agency. We are fighting hunger, which is a killer like no other. Hunger kills more people than tuberculosis, AIDS and malaria combined," says Caroline Hurford, Senior Public Information Officer of the World Food Programme (WFP).
WFP works in collaboration with the Food and Agriculture Organisation (FAO) and the International Fund for Agricultural Development (IFAD). The famine that hit the Horn of Africa last month has already killed tens of thousands of people. According to a recent estimate by FAO, the UN needs $1.6 billion in the next 12 months to provide aid to the region; 12 million people in Djibouti, Ethiopia, Kenya, Somalia and Uganda require emergency assistance. WFP is currently reaching more than 11 million people throughout the Horn.
The need for food aid has become a global problem. The severity of the food crisis calls for prompt action. Hurford relates her efforts in communicating these messages globally and garnering support for the cause worldwide.
The team behind the cause
WFP has around 11,000 staff members based in 80 countries, 90% of whom are from and based in developing countries.
Being 100% voluntarily funded, the organisation largely depends on voluntary contributions from governments and corporate partners and urges individuals to contribute. The United Kingdom is among the top ten countries that give the most aid to the WFP, while Hurford credits the United States for helping to feed Darfur and Sudan.
Communicating during the famine in Africa
Hurford explains:
"We have three public information officers based in Nairobi, who cover the whole of East Africa, and have been watching this drought gather momentum. Our colleagues in Nairobi and Rome have been observing the situation closely and gathering information from our partners based in the field. The public information officers facilitate this flow of information, worldwide, helping us to ramp up interest. We inform the governments of donor countries and explain the severity of the food crisis and urge them to respond."
Despite WFP's best efforts to alert the international community, the response has been slow. Having been forced to cut its rations as late as March, due to lack of funds, WFP's Executive Director, Josette Sheeran, travelled around the region again recently, in a bid to raise international support.
Response of the global community
Hurford says:
"It's generally only when you get the TV cameras in there, and the dreadful images of skeletal children appear on screen, that the international community wakes up to the cause."
When governments fail to step up the plate, the Disasters Emergency Committee (DEC, an umbrella for 14 non-governmental organisations) gets UK mainstream media coverage to reach out to the man and woman on the street. The DEC has gathered 20 million pounds so far this way.
Channels of communication – external
"In addition to a public information assistant, I am also supported by a youth outreach consultant. The consultant helps me to tap into schools and colleges and this spreads the word. Schools realise that food is core to development and progress and we are gathering student ambassadors to go and reach out to others," explains Hurford.
Due to tight budgets, WFP does not spend money on advertising as a means of communication. In recent times, it has begun to harness the power of social media.
"With social media, we have entered a completely different world of communications; Twitter and Facebook are huge new drivers of getting our messages across and LinkedIn helps us to reach out to the corporate world in times of a disaster," says Hurford.
Staying ahead of the social media curve is what she advocates. The WFP's public information officers were summoned for a social media training at the headquarters in Rome earlier this year with the aim of furthering WFP's aims in fighting hunger.
"Now, it would be pretty indefensible to spend money on advertising if we are told that 79% of people trust what their peers say about organisations on Facebook. We want the maximum amount of money raised, to go to the beneficiary rather than invest in advertisements," Hurford adds.
Internal communications
Pipeline is WFP's employee magazine which Hurford edited back in 2002 when she joined the organisation.
"It was great fun and I loved working on it. It basically revolved around the stories from staff in the field. It might be something really silly like the longest snake ever found in the Nairobi office and how the program officer tackled the issue and turned out to be a hero. People love to read about their colleagues and what they are upto in the field. They love seeing photographs of people they know and they have worked with".
WFP Go is the organisation's intranet and has grown from a primitive tool into a channel that is regularly updated with interesting stories and a highly popular section called 'Star snapped in action'. Anybody across the organisation can take a picture of their colleagues in action, add a caption and post it under the 'Star snapped in action'.
Interaction with the head office
The WFP headquarters in Rome has appointed a Head of Internal Communications who has regular meetings with PI's (Public Information officers) across the world.
"HQ holds a weekly session where a senior member of staff talks about their work and their challenges. I find it a good means of internal communication," Hurford points out.
She adds, "It is great because we get to interact with our colleagues who may have been on a trip somewhere and this gives them an opportunity to share their experiences with all of us."
Partnering with NGOs
In communicating with the masses, of essence to an organisation like the World Food Program is an intensive partnership with NGOs. From food to fuel to financial, the NGOs play a crucial role in assisting WFP in delivering critical food and nutrition assistance.
NGOs are described as instrumental in increasing WFP's global deep field presence and essential in both short and long term responses to hunger. WFP partners with NGOs from 34 countries of which 55% are in Europe. The United States has the highest number of NGOs collaborating with WFP.
One such partner working with WFP for over 20 years is World Vision. In recent times, WFP in collaboration with World vision has implemented a number of school feeding programs, food for work programs and cash for work programs.
Highlighting some of the challenges faced, Walter Middleton, Partnership Leader at World Vision says, "While there have been significant gains working in partnership with WFP, occasionally we do confront a few challenges. One of them is lack of sufficient funding from WFP for development type programs which leads to food pipeline breaks. Also with the short duration of our programs, it is difficult to plan and retain staff."
He adds, "I would like our partnership to lead to more food for work/cash projects and I would be keen to see World Vision and WFP approach donors jointly for food and funding in the future."
Partnering with corporates
"While the support of NGOs is fundamental to our approach, I would be very keen to actively continue to partner with corporates like Unilever especially in the area of internal communications. I believe they could share key insights on the practice of internal communication and help us improve our game. Corporates gain a lot of kudos out of partnering with us and it would be helpful if they would share their experience with us. This is what partnership is all about," says Hurford.
The future
Stationed in a competitive world and yearning for the money to fight hunger, of utmost significance for the WFP is continuing and active support of governments, corporates and the public.
In Hurford's opinion, it is only through constant engagement with the public that WFP can gain more support. WFP must use traditional and social media alike to advocate and communicate, the plight of those suffering across Africa and Asia.
Hurford says, "We have to remember that in some ways, the humanitarian aid story may only ever be a kind of a sidebar; the main story is always about how many people are dying and who is trying to steal food aid etc. In disasters like a Tsunami, suddenly the efforts we've made all through the year get drowned in media scepticism and public scrutiny. This must change."
—
One goal, two approaches: Virgin Media and Cisco tackle sustainability
"I'm a firm believer that sustainability should be about opportunities and not sacrifices and with creativity, innovative thinking and passion, we can actually create a better future. That's what gets me up in the morning and it's great to be doing it with a brand that can bring some fun to the agenda, too," says Katie Chapman, Acting Head of Sustainability and Reporting at Virgin Media.
Chapman oversees the delivery of the company's sustainability strategy and makes sure she communicates the progress of her efforts to employees with transparency and creativity.
"We're working hard to embed sustainability into how we do business, making it everyone's responsibility. Our CR & Sustainability team is relatively small while the rest of our team focus on Virgin Media's social investment activities."
Cisco on the other hand depends on a network of Green Ambassadors who work under the leadership of an executive sponsor to integrate sustainability into the fabric of the business. Each of the Green Ambassadors at Cisco hold a dual citizenship which means that in addition to their defined roles within the organization, they also execute the sustainability strategy with their country and region.
"I believe passionately in the need for society to change its relationship with our environment. This is not limited to climate change, but extends to resource exploitation and our collective response to these joint challenges," says Ian Walker, who currently leads Cisco's UKI Sustainable Operations initiative, worldwide.
Walker believes that in spite of the proven urgency, few nations are prepared to risk losing competitive advantage by assuming unilateral costs:
"Most citizens are similarly not yet prepared radically to change their behaviour voluntarily. It is therefore up to corporations to take a lead both in creating new markets and enabling the seismic shifts required to reduce our dependency on carbon and increasingly scarce resources."
Virgin Media's digital approach
Speaking of the ways to adopt sustainability within large organisations, Chapman and Walker offer insightful narratives.
"Virgin Media is still a young business, so we're quite early on in our sustainability journey. The past couple of years have been more about making sure we've got the right structures and processes in place on the issues that matter. Our biggest initiative has been the launch and development of our new, exclusively digital approach to reporting. The main idea that underpins our approach to content is show not tell," explains Chapman.
Virgin Media's sustainability website offers the latest news, interviews with key people and articles and HD videos about their progress on the sustainability journey. From the new teardrop lorries, to closed loop paper system to what it's like being a female apprentice, employees generate content using flip cams and display what's going on behind the scenes to the make the business more sustainable.
"We've found that there's no better way to engage our employees in our sustainability story than by making them the stars of the show," she adds.
When making the film titled, "The Little Red Box", internal teams approached Chapman with their own ideas about content. The piece came about as a result of the logistics team wanting to tell the story of the Quickstart packaging solution, which can be re-used up to 7 times.
Sustainability at Cisco
Providing insight about the approach to sustainability at Cisco, Walker says, "In 2006, we established the Cisco EcoBoard, focused on combining the power of innovation with collaboration to create the most sustainable model for addressing global climate change. This model ensures that our sustainability strategy remains intimately aligned with our business priorities by means of four key capabilities: market access, market enablement, differentiation, and positioning/competition."
Implementing that strategy led Cisco to reduce its carbon output by more than 27% in a single year primarily by shifting internal business collaboration from air-travel to the pervasive use of technology. Cisco's own use of Telepresence video conferencing has achieved 330,000 tonnes in carbon reduction from unnecessary flights which consequently led to over $500m in cost savings and thousands of hours of saved productivity.
"It's a powerful message, and proof that technology really can change behaviour in a positive way," Walker points out.
Two initiatives that have stood out in particular for Walker was Cisco's partnership with BT to launch the Ellen MacArthur Foundation that works with the industry, academia and young people to promote the concept of a Circular Economy and an employee-led initiative to harvest honey.
Illustrating Cisco's corporate and individual engagement in sustainability, the two initiatives whilst being radically different, are at the core of making sustainability a key strand in Cisco's growth and expansion strategy.
Challenges to approach
Taking a digital approach has helped Virgin Media reduce the roadblocks to achieving sustainability. How so? Chapman explains, "It has made the whole process a lot more straightforward. It gives us a flexible approach that means we can tailor content to different audiences. We can update the content instantaneously, so it's never out of date. It enables us to actually show people what we're doing in a way that fits with our brand.
"After all, we're a digital business, so why wouldn't we put digital at the heart of our approach to telling our sustainability story?"
At Cisco, the biggest challenges are more external than internal.
"With the financial crisis, many people are focused on more immediate threats caused by job losses, instability and economic uncertainty. There are still too many heavyweight naysayers casting doubt on the validity and impact of man-made global warming. Even the government has recently pulled back from some of its earlier commitments to focus on carbon-reduction. As Dr. James Martin has said, there is a danger that only a catastrophe will bring about the necessary will to change," says Walker.
The role of corporations therefore becomes critical.
According to the SMART 2020 Report, ICT has the potential to reduce global emissions up to 15% by 2020.
Greenpeace identifies Cisco as the leading technology change to create meaningful solutions, such as EnergyWise, that enable active energy management.
Demonstrating the seriousness with which Cisco is committed towards sustainability, Walker highlights some of the recent key initiatives. "Our EMEA CEO, Chris Dedicoat, has been a key influencer in the decision to support Ellen MacArthur's work and its influence on the Circular Economy. He has also recently appointed a Senior Director to lead sustainability in Europe, thereby further raising the profile of the Green agenda. We have set ourselves ambitious targets further to reduce carbon emissions by 25% by the end of 2012," Walker says.
Collaboration with internal comms teams and embedding employee engagement
"Sustainability is something that can't be siloed or isolated from other parts of the business so it's really important to take an integrated approach. As a Virgin brand, it's really important that we approach things with the kind of personality you'd expect from us – fun, human, straightforward. Just because we're talking about sustainability, it doesn't mean we should change any of this," says Chapman.
Nearly two thirds of people who responded to Virgin Media's engagement survey,Heartbeat, said that Virgin Media's social and environmental performance is particularly important to them.
"Engaging our employees in sustainability is not so much about helping us meet our targets. It's more about demonstrating what kind of company we are. And that's really important to us," Chapman explains.
In March 2011, Cisco formed the Sustainability Steering Group to accelerate its efforts to engage specific business units in Cisco with a critical role to play in emissions-reduction.
"Indeed without the power of internal communications, much of the impact of our efforts would be compromised. As with all large companies, Cisco employees struggle with the fire hose of information received, so the positioning and timing of sustainability communications dictates its impact to a large degree. Employees respond most effectively when there is an integral link between sustainability messaging and our overall go-to-market strategy," says Walker.
Cisco organizes a bi-annual e-Scrap day where employees can bring in their old electronic equipment and Cisco takes care of its recycling reflecting its commitment to maximise the utilisation of components and rare-metals in addition to links to their work on the Circular Economy and closing the loop on product creation and utilization.
Feedback
"We're in the middle of this year's engagement survey as we speak and I can't share any results yet but we've had loads of comments and messages of support from our staff. Like most sustainability teams, we don't have the budgets of the marketing department but this year, we've learned that with great ideas, we can create really innovative and engaging content. We'll definitely be doing more of that in 2012," Chapman says.
Walker believes that there are still too many people for whom sustainability is not a priority, for a variety of often very cogent reasons. There are radical changes that can be made, like mandating air-travel reduction, but it is only possible where realistic alternatives, like Telepresence and Webex, are available and pervasive.
"The key is to implement policies and practices which are reasonable, and enable people to perform their jobs, but with a lower energy usage or smaller carbon footprint, and to keep doing this incrementally, year on year. The Cisco-on-Cisco story is very powerful: as a large Enterprise of more than 60,000 people, we use our own employees to test our products and demonstrate the productivity, cost and carbon savings that can be made," says Walker.
Technology such as EnergyWise is a non-intrusive way of introducing energy management to the desktop, enabling power-down to device-level.
"Although there are mixed feelings about removing the responsibility for powering down your own laptop or desk phone, for me it is more important to achieve the end result of reducing consumption," he adds.
Lessons for 2012
Moving into 2012, the biggest challenge that Walker sees is to maintain mindshare with employees, reflecting the wider dilution of the climate change agenda globally. The idea is to maintain a longer-term perspective in Cisco's sustainability strategy by continuing engagement in the circular economy development and the impact that it promises for the supply chain. The cloud strategy is also seen as a key enabler of sustainability by facilitating access to services and applications on an as-needed basis.
On a conclusive note, Walker says, "It is perhaps a cliché, but I continue to hold in my mind a conversation that I will have with my children in 20 years' time when they ask why we prevaricated for so long in acting on climate change and its implications. I want to avoid that sense of guilt, which accompanies pointing a finger in the direction of politicians and other world leaders when I answer."
———————————————————————————-
"It's not a corporate thing, it's a Virgin Media thing."
---
RSAnimates go viral
Some things in life are better seen than read.
RSAnimates is an initiative that was sparked off in December 2009 by the Royal Society of Arts (RSA). With its new strapline, 21st century Enlightenment, the RSA seeks to enhance human capability in the modern world. Aimed at improving the quality of people's lives, the charitable foundation has 27,000 fellows across the world and is committed to the cause of gaining from the power of cumulative minds.
As Jeremy Rifkin, President, The Foundation on Economic Trends puts it in one of his lectures at the RSA, "There is no place better than the British Royal Society for Arts because this is the place that started the discussion for the modern world."
RSAnimates has created a furore on the video sharing website, YouTube, as it innovatively adds pictures to words. If the numbers could explain it, the RSAnimates series has witnessed 19,400,000 views of its videos and its YouTube channel qualifies for being the most subscribed not-for-profit channel on YouTube.
If that doesn't speak enough of the accolades it has won, the RSA's events are also the number one audio podcast in the UK on iTunes and have over 8,000 followers on Twitter and 17,200 fans on Facebook.
Curiosity about this overwhelming success led me to speak to Abi Stephenson who's been intrinsically involved in the research, production and programming of RSAnimates. Stephenson is a researcher and programmer in the events team, which sits within the External Affairs Department of the RSA.
The idea
Director of External Affairs, RSA, Nina Bolognesi says, "The germ of the idea for RSAnimates was a moment of sheer inspiration on the part of my colleague, and 90% of the credit goes to that colleague. The other 10% should be attributed to the fact that the External Affairs team recognized it to be a great idea and put all their energies behind it to make it land."
RSAnimates gives RSA access to a new generation who would not normally sit down and listen to lectures or event podcasts. It has opened its doors to stimulate conversations with a new audience.
Andrew Park is the man whose magical hands have been instrumental in bringing so much traction to RSAnimates. Park is a fellow of the RSA and currently Director of Cognitive Media. "We asked Andrew to draw us an illustrated analysis of one of our events for the RSA Journal. It was just a static illustration initially, but we decided to bring it to life by adding the audio track and animating all the images," recalls Stephenson.
The success
Despite the modest expectations of Stephenson and her team, RSAnimates went viral in May 2010. "We knew that through RSAnimates we would expand our viewership gradually, but we did not remotely expect it to be this successful in such a short span of time," Stephenson says.
The success of RSAnimates could stand evidence to how strong content when shared on social networks can make a profound impact on millions across the world. "It is overwhelming to receive emails from 14 years olds who write in to say that they would have never sat through the lecture but have thoroughly enjoyed every bit of the RSAnimate series."
RSAnimates have also been shortlisted for a Webby Award, honouring excellence on the internet including websites, interactive advertising and online film and video. RSAnimates came in second place in the People's Choice category.
"The turning point for us was Dan Pink's RSAnimate, 'Drive' which examines the interconnected ideas of creativity, motivation and purpose. It currently runs on 5,889,633 views. Another one that went viral was Sir Ken Robinson's Changing Education Paradigms. Both videos have been revolutionary for us," Stephenson points out.
Content creation
While the final frame might look spotless, the efforts put behind to achieve just that are painstakingly meticulous. "It is a nerve-wracking process to pull 10 minutes out of an hour ensuring that the context and thesis are maintained and the content is visual enough for illustrating. We look for aspects of arguments that will really move people and prompt debates and conversations globally," explains Stephenson.
Issues of accents and presentation style are some of the challenges that the team struggles with while ensuring that the content they create is universally appealing.
While millions across the world laud most of the content on RSAnimates, sensitive issues see some backlash.
To name a few, Choice by Renata Salecl and The Internet in Society: Empowering or Censoring Citizens. "Critiques of capitalism have seen some strong resistance. Issues that relate to ideology or that question deeply-held assumptions do tend to stimulate passionate discussion – but we consider it a success just to have got people talking," Stephenson explains.
So how to respond? Stephenson believes that intervention would only fuel fire. Self-regulation within the online community is what RSA maintains on such occasions with exception to remarks that might be racist, sexist, homophobic or bigoted in nature. Such comments are usually deleted.
Facing challenges
Bolognesi adds, "We have learnt that there are challenges to turning a global online community into an off–line community. How do we encourage people to engage fully and actively with the ideas contained in the RSAnimates, and take action beyond simply watching and enjoying them? If we could harness the potential of those 20 million viewers we could have a very powerful movement indeed."
What makes RSA unique?
The RSA is a completlely unique institution – it combines socially progressive research with practical action, has a diverse international fellowship, and provides a free platform for conversation around the latest world-changing ideas. We are attempting to move beyond the individualistic, 'homo-economicus' view of human nature and society, and toward a more cooperative, empathetic and community-centred one.
Accepting the challenges that the 21st Century brings in, Bolognesi says, "Tackling the challenges requires us to draw on the best thinking and new evidence about the world around us. Our events programme is widely recognized as one of the most exciting in the UK. However RSAnimate took us to a totally different level, and positioned the RSA as a global brand able to reach out to an audience of over 20 million worldwide."
What's next?
While RSAnimate series has met stupendous success, the vision to continue strengthening public debate and providing free platforms for debate, discussion and for sharing the best new thinking across a range of disciplines pushes the teams to keep itself abreast with new tools and means.
Stephenson reveals:
"We have brand new partnerships with Mixcloud, Blackberry Podcasts (for audio and podcasts), Hulu TV in America and ABC TV in Australia (videos). We are also launching an international film competition to encourage new creative talent. The competition will allow members of the public to come up with a unique short film that communicates some of the ideas from our events programme."
—
Lloyds Banking Group goes back to school
If an army of bankers marched into a local school and decided to run it for a day, the first impression one would draw is that of utter chaos or a callously designed PR campaign.
That was not the case when the retail HR team of Lloyds Banking Group decided to do just that. "Back to School" is what they called the initiative and the underlying purpose was to make a radical departure from regular conferences organized annually by the group.
"The idea was to take the people out of their comfort zone and show them what they are capable of. We felt it would equip the employees with the confidence to accept the changes that were coming through in the next 12 months. We wanted to engage and inspire them so that they feel proud of where they are working," explains Janine Osborn, who worked with Russell Martin, Retail HR Director of Lloyds Banking Group.
From an idea to an event
While annual conferences are often the way companies choose to share their future strategy and apprise employees of the progress they have made in the past year, holding one in a school is rarely heard. Osborn recalls how the idea took shape:
"The idea initially came from the HR function of the Lloyds Banking Group who had signed to a school's partnership program for charity. When someone visited my boss asking about the school partnership program, an idea struck him as to why we shouldn't conduct the conference in a school this year."
Soon a full-fledged event was in the works. Not only would the conference occupy the entire space of the school, the idea grew to actually running it for a day. The event involved senior managers of the Retail HR and Communication function who are essentially responsible for nearly 60,000 people across Lloyds.
Karen Sawyer, Head of Events for Retail at the financial institution, says, "This was ground breaking for us. It was the first time we had actually gone out to the school, taken it over for a day and worked with the community in that way."
While the working title of the conference was "Back to School" for Lloyds employees, the title used for the students was "Be the Best You Can Be."
Preparing for school
The Retail HR function at Lloyds Banking Group looked to leading events agency, drpgroup, to help them stage the event.
The first task at hand was choosing a school. However, this wasn't going to be easy considering there were a few criteria to be filled. It was essential to find a school that required some support; whose management was willing to listen to new ideas; and one that had the facilities to accommodate an event of such a large scale.
Osborn says, "One of the reasons that events of this nature occur rarely is because it is difficult to find a school that meets all of the above criteria. I have to accept that it was purely through personal networking that I was able to get our feet into a school that fit our needs."
St Mark's Church of England Academy in Mitcham was the school that was finally chosen. It was visited by 180 of the banking group's employees to lend an educative and inspiring experience to the children.
Dale Parmenter, Managing Director, drpgroup, remembers, "At first I don't think it sunk it. I took the brief as though it was any other event. But the realisation actually sunk in at the first meeting with the school's head teacher who asked me – 'how many of these have you done before?' I realized this was going to be different."
Driven with passion and a genuine interest for making a difference in the lives of the school children, the team was committed to making the event a meaningful one. From choosing the lessons to deliver, to drawing the lesson plans and arranging for all the equipment, the preparations began with full steam.
Reaction of employees
When the initiative was introduced to employees, their reaction was one of sheer terror.
Sawyer points out, "To stand in front of 30 rowdy kids in a school that has had five head teachers in the past seven years is a difficult task. Everybody had his or her own assumptions about how it would be in reality. While the managers were supportive, they were unsure of what the outcome would be."
Contrary to all the scepticism, with due support from the school's Head of Art, Paul Osborn and Head of PE, Lee Cholewa, the team from the drpgroup – along with Osborn and Sawyer – managed to deliver a gripping show.
Osborn mentions that the support from Gresham Street was particularly encouraging:
"Angie Risley, Head of HR at the Lloyds Banking Group came down to the school to pay a visit. She spoke to our teams and was impressed by all the activities taking place around the school."
D-Day
Sawyer recalls:
"On the day of the conference, we started the morning with two large assemblies. Roger Black, the famous athlete-turned-motivational speaker conducted the first assembly while Steve Backley, retired British athlete and former world record holder for Javelin throwing, conducted the second one. We chose them because of the upcoming 2012 Olympics, which is a significant event and we wanted to bring in this element for the children."
While the assemblies were going on, Sawyer and Russell Martin were briefing the HR professionals in the gym from the boxing ring. Strange as it was to hear managers giving instructions from a boxing ring, it held everyone in rapt attention.
Following the assemblies, the HR managers took over lessons, teaching and helping students across 5 year groups with work and life skills. The morning was purely devoted to delivering lessons that focused on reading, goal setting and work experience.
"The whole premise was to give them an insight into behaviour at the work place, which was especially relevant for the Year 11's. I feel that while they were all confident young kids, they were lacking a worldwide knowledge about things, which is what we were there to share," Osborn says.
Following a joint lunch the HR managers used the school hall for their traditional conference. While the day was filled with interesting sessions being delivered by the Lloyds employees, there were some fascinating activities planned for the afternoon.
"We had music, drumming, dancing, a fitness video, a fashion shoot, painting of banners and some phenomenal singing. There were pockets of activities taking place all over the school," recalls Sawyer.
Following this, the drpteam had just 90 minutes to create a closing ceremony for the day featuring the 750 students; this included all the activities practiced in the afternoon session, weaved together to create one final show.
Not quite a piece of cake
Parmenter remembers:
"In the morning, everything was all quite calm. The realisation of how difficult it could get actually set in after lunch. One such situation occurred during the dancing activity we had organised. As I entered the room where the activity was taking place, I saw groups of kids who had dropped out of the activity and the choreographer was struggling. I stepped in at this moment and delivered a pep talk to motivate the kids and explain them the very reason behind it."
"We had ten to twelve areas where all these activities were going on and just 90 minutes to make all this happen. The pressure was intense," he adds.
For Osborn, the experience was truly amazing.
"We could not believe it, the crew could not believe it and the kids themselves could not believe it.  I don't think any of us could have envisaged the impact it would have on every single person involved. In particular, the closing ceremony was stunning. Afterwards, we got our people to line up from the school door to the gate and we clapped them all out.
They absolutely loved and the cheeky ones went three times around to get the applause."
Making a difference
As the day wrapped up, the teachers and the employees – as one team – watched the moving flashback video which left salt water in everybody's eyes.
In the end, the school's Head teacher related an overwhelming story of how a girl who didn't participate in the normal lessons and was also unwilling at the beginning of the event to participate in any of the activities was – at the end of the day – one of the most enthusiastic cheerleaders:
"Now I can tell you that you made a difference."
Both Osborn and Sawyer are going back to the School to help with their Sports Day and are keen to encourage an ongoing relationship.
---
How the United Nations communicates in a transnational world
Born out of the disillusionment that surrounded the Second World War, was an ambitious structure expected to preserve global security – the United Nations. The idea was to create a peaceful global order that would act as a custodian of human rights and a resolution for territorial conflicts.
From 1945, when the UN was first set up, through to 2011, the UN has grown to include 192 member states and has over the years left an indelible mark in resolving international economic, social and humanitarian conflicts. Condemning Syria for using tanks and live ammunition against protestors; investigating allegations of human rights violations in Libya; criticising the 2009 Sri Lankan war crimes – the UN is playing a ubiquitous role to defend human conflicts.
Amid the crucial role the UN has assumed in present times, Stephane Dujarric, Director of News and Media at the UN, speaks of the challenges it faces, the dynamic strategies and the platforms of engagement that the UN currently deploys, in addition to the wealth of learnings he drew from his role of Spokesperson for Secretary General, Kofi Annan.
Challenges
"The UN is a fragmented organisation – it is a brand of a thousand faces." He elaborates, "The UN is an organisation with numerous arms – Secretary General, Security Council, General Assembly, UNICEF, UNDP and a long list of acronyms. All these agencies have their own viewpoint and pursue their own needs. However, it is important to understand that while the audiences for each of these might be fragmented, the messages come from the same platform. The right thing is to ensure consistency of the message, which is a huge challenge for the UN."
Speaking of other constraints facing the UN, Dujarric speaks of technology and a shift in the acceptance of communication and ideas by the public as two profound areas of concern. "Managing technology that is ever changing brings forth questions of what platform and what medium to use. Few years ago, organisations would speak and people would listen; today populations at large don't want to hear any more from organisations, they want to hear from their peers", he says. Emphasizing on the role social media plays, Dujarric speaks of social networks as instruments of peer-to-peer communication and the challenge for the UN as that of inserting into that dialogue.
Reputation
Engulfed by events and incidents of economical, social and humanitarian conflict, the reputation of the UN faces constant threat. Adopting an approach that meets the needs of stakeholders and influencers becomes key. If a small group of peacekeepers abuse children in Congo; the work of the organisation is tainted – such is the precarious nature of UN's reputation.
"Managing reputation requires quick words and reaction. In my experience, after having dealt with some highly delicate political scandals, I am convinced that all of them could have been avoided if the information had been out there ahead of time and people would understand it. Hence, I believe it is all about proactive transparency," says Dujarric.
He adds, "The UN needs to be humble in its approach and more open about its fragilities. The strength lies in adopting a multi language and multi cultural approach."
Advocacy journalism
An organisation like the UN is present in every segment of life – from nuclear energy to regulating civil aviation, to humanitarian and development work. Maintaining focus on a particular issue while sustaining efforts on many other fronts becomes significant.
The role of advocacy journalism emerges here. Advocacy journalism as conventionally defined is a genre of journalism that intentionally adopts a viewpoint for a social or political purpose. What distinguishes it from propaganda is that it is based on facts.
"It is this component of advocacy journalism embedded in the mandate of the UN that enables it to ensure that forgotten stories are not forgotten. When the earthquake and tsunami occurred in Japan, last month, the UN pushed as many facts on issues of nuclear reactors to the International Atomic Agency. The UN also saw opportunities in offering pre-mix and edited raw material for producing news themselves. Our aim is to ensure that the organisation is in the background and people are in the front," explains Dujarric.
Global news vs foreign news
Speaking of journalism, Dujarric draws light to the imperative nature of the global versus the foreign news agenda. "Foreign news includes events overseas – whether it has an impact at home is secondary. However, global news is understanding that what is happening over there and at home is exactly the same thing. Climate change is a primary example. Whether you live in Denmark or Mali climate change will have an impact on you, and that is global news. That is the concept that we have to sell to news editors," he says.
A pertinent question that arises here is that at a time when audiences across the world are being inundated with news through numerous sources and there is a scenario of information overflow, how does an organisation like the UN that reaches out to fragmented audiences identify the right platform for engagement?
"It is easier to get distracted with new platforms and invest time and people when you don't know the reach. If you have the luxury you should sit back and wait a little bit and see what is the latest thing that actually works, as supposed to putting your time and effort in something that doesn't work. We have to remember – we are producers of news and content, but we are also consumers. If we as consumers find it boring, then our audience will have the same reaction," explains the Head of News and Media at the UN.
Communicating for development
At present, the UN is making rigorous attempts to unite on the issue of violence in Syria; it is quizzing Libyan officials on human rights in Misruata and facing attacks by the Lankan government for its report on the Sri Lankan war crimes, in addition to facing much criticism for its resolution in support of the Palestinian statehood.
Core to each of these issues, is a dire need to communicate for development to increase efficiency and bring about social change. Reaffirming this, Dujarric says, "Communication for development is about social impact and behavioural change. How do you convince societies that the polio vaccination is not a plot by Western countries, how do you convince societies that boys and girls need to go to school? That is what communication for development is all about."
Oil for food scandal
Drawing from his wealth of experiences as Spokesperson for the Secretary General -Kofi Annan, Dujarric speaks of transparency as a key enabler of diplomacy. The Oil for food program in Iraq has been the undercurrent for much speculation for the UN. The program that was established in the year 1995 by the United Nations to allow Iraq to sell oil in exchange for food, medicine and other humanitarian needs, was terminated in late 2003. The then Secretary General, Kofi Annan faced much criticism from different stakeholders for the financial irregularities and the callous management of the project that emerged through investigations. Many called for Kofi Annan's resignation.
Recalling his work as Spokesperson, Dujarric says, "There were a lot of political and financial scandals that happened at the same time. Many of these scandals could have been averted had we been much more transparent as an organization. However, it is important to understand that the UN is a sum of its member states and the Secretary General is not an independent actor. He is given instructions by member states to do something. My disappointment was largely a lack of real defence for the organization by those countries that always supported the UN".
Winning in a transnational world
It is a real need of the UN to work in conjunction with the private sector, with civil society and students to extend its unique international charter to those who need it the most.
Dujarric says, "To survive, the UN has to open its doors. It is a member state organization based on the concept of nation states that existed over 100 years ago. The world we have today is so much more transnational with many actors on the stage that have more impact. You have to ensure foundations, civil society, and the private sector work hand in hand with the UN in a transparent and more productive manner."
In winning transnational stakeholders, the UN must present irrefutable evidence of its exemplary tools and forces of engagement so as to infuse in the member states – the ability to create a world order that conforms to the cultural values and political ambitions of its mandate.
---
Creating one internal culture at Thomson Reuters
It was a marriage in 2008 that made it a multinational firm employing over 55,000 employees across 100 locations and reporting revenues of $13.1 billion for 2010. It identifies itself as the world's leading source of intelligent information for business and professionals and we know it as the world's most trusted news organisation – Thomson Reuters.
As it reaches its third anniversary this month, Thomson Reuters has much to reflect on. The aim of building a great experience for the customer unites the company together and reinforces the nature of what the merger between Thomson and Reuters aimed to deliver.
The merger
Anne Marie Bell, Global Head of Internal Comms – Markets, the financial division of Thomson Reuters, recalls:
"The cultural integration between Reuters and Thomson began three years ago. Reuters already was a very global company, while Thomson was largely a Canadian American footprint. It had some operations outside of this but not to the extent that Reuters had."
In a big merger, the first year is the most critical, where two companies integrate into one as employees adapt to being part of one company with a common culture and aim.
In Thomson Reuters' case, their first year was one that was focused on 'One Company in One Year'. At this level, the first step was integration and called for some major organisational re-structuring.
Bell explains:
"When we began the integration we had five things that we set out to do in the first three years: get to one company in one year; deliver an outstanding customer experience; innovate, innovate, innovate; deliver the numbers (revenue, growth, cost savings) and build the best place to work.
One Company in One Year' was all about doing the heavy lifting needed to get us to simply function as one single business. The challenge was enormous and the timescale ambitious. We had to put in place new organisational structures, appoint people to new roles and new teams were being created around the world."
Integration is key
As a result of the merger, property moves ensued all around the world as Thomson Reuters co-located teams and functions that would be working closely together. It also called for a merger of product sets and determining which products to continue from both companies and which products to sunset.
Bell says: "All our systems and policies had to be integrated too – finance, HR, customer data and technical infrastructure. Everyday tools like email, accessing calendars and merging/cleaning up hundreds of thousands of lines of content from the intranets all posed very real communications challenges. People needed to have access to information sourced from both companies."
As one would expect of a major merger, the customers felt the immediate effect. They now had to deal with a bigger and a different company, with a broader range of products and services and, in some cases, deal with new people on their accounts. To this effect, Bell explains that their most important task at that point was to not let the services fall and keep up to the demands and expectations of customers.
"The first year was an incredible challenge because there was so much at stake – and so much that could have gone wrong – but sheer determination and resilience won the day, and we got through it."
Constant Innovation
While Thomson Reuters was keeping the wheels turning for its clients, it was innovating too.
Both companies had several new products in the pipeline and work on those had to continue apace, but with the strengths of the combined new company built in. Last year, the markets division launched three major new products for the financial markets with Thomson Reuters – Eikon, the new financial desktop and mobile platform, being the biggest product launch that either Thomson or Reuters have delivered till date.
SWITCH – redefining the customer experience
Speaking of the new initiatives, Bell points out, "None of this matters if our clients are not seeing and feeling the benefits of the merger. We had committed to delivering an outstanding customer experience but that in itself would mean major change to our frontline operations and elsewhere across the firm. So we introduced a program called SWITCH which redefined the customer experience."
This meant switching to a much more tailored and 'best fit' approach to sales and service, depending on the customer's business mix, area of specialism and workflow. It was about matching the skills of the salesforce with the specialist demands of the customer.
In reality it caused a huge shift for the frontline. Over 3,700 people switched to new roles in new customer segments after months of intense training to get the specialist knowledge and expertise to serve those segments. It called for the set up of a new Direct virtual sales channel to stay in touch with customers more regularly.
Bell elaborates, "We also created a new virtual training function for customers called the Thomson Reuters Knowledge Network. It means that we can offer live and on-demand training to many more customers than before, teaching them how to get the best out of our products and tapping into the expertise of our employees around the world. We've made the switch and now the new of working is being embedded across the frontline."
Changes post-merger
Three years post the merger, how has the marriage affected the internal culture?
"It really feels like we have lived through a decade of change in just a few years and the entire financial industry has changed fundamentally in that time. The disciplined approach of Thomson has merged with the risk-taking culture of Reuters, creating a business that is more curious, more customer savvy and with innovation in its DNA," Bell explains.
She adds, "I also believe that employees are incredibly proud to work here. We put a huge amount of effort into building the brand and the best place to work – from career development and training, talent management, diversity and affinity groups, reward and recognition and great communications". Making a difference through internal communications Internal communications is an important strategic asset at Thomson Reuters and is firmly positioned at the outset as an enabler of change within the business. "The internal communications challenge of a huge merger is unlike any I've faced in my career. The level of change, and the sheer volume of what had to be communicated to whom and when seemed overwhelming at times," says Bell.
She further explains: "We had two main communications challenges – the first was keeping communications simple, clear and consistent for a global audience where over 60% do not have English as their first language. The second was to help our employees cut through the noise to get to what was important for them and their team. With so much change there was a tendency for everyone to want to over communicate."
The job at hand for Bell was to persuade people that not everyone in the company needed to know everything and to keep commnications as targeted and relevant as possible.
Measuring the success
As the business gears up for its next phase post-integration, staff engagement levels are high. The annual employee engagement survey and pulse surveys show that the scores as a combined business are better than each company had as separate entities.
"It is both reassuring and gratifying, especially when I look back almost three years later and see how the business has completely transformed, and what it took to get there," says Bell.
Even better is the fact that Thomson Reuters has maintained their number two ranking in the Financial Data Services category in Fortune magazine's recent World's Most Admired Companieslist. They've also been named to the Ethisphere Institute's World's Most Ethical Companies list for the third year in a row and are tops when it comes to Excellence in HR Management in large organizations.
The road ahead
Moving further into 2011, Bell plans to focus on keeping staff engaged and knows that there is still much work to be done, even three years after the merger.
High on her agenda is to provide more communications support and tools to managers across the business, keep the organization focused on its growth ambitions, and involve employees in helping to simplify the business.
"Simplification is the name of the game for the Markets division of this year. As one of our executives said recently: "simplification is hard to explain but you know it when you see it."
And are they starting to see it?
Bell says they are, "but that's a whole other story."
—
International Committee of the Red Cross in Action
In 2003, when the US and its allies chose to wage war on Iraq, it was a situation of armed conflict. Another armed conflict ensued in January 2009, when the Gaza war kicked off between Hamas and the Israeli forces.
In both situations, one institution that played a crucial role in helping those worst affected by these conflicts was the International Committee of the Red Cross. As the name suggests, this institution is part of the International Red Cross and the Red Crescent movement.
"Our specific goal, which is where we differ from national Red Cross and Red Crescent societies, is that we specifically help people who are victims of armed conflict or other situations of armed violence," says Florian Westphal, Deputy Director of Communication and Information Management at ICRC.
He adds, "Among the things we do is distribute relief aid to people who have been displaced by war or patients in hospitals and clinics, people who have been injured in combat or people who have difficulty in accessing medical care because of fighting. We also visit people who have been detained and imprisoned in connection with wars, armed violence or other political and security incidents."
The mandate
The Geneva Conventions of 1949, which are at the core of International Humanitarian Law, the body of law that regulates the conduct of armed conflict and seeks to limit its effects, dictates the underlying mandate of ICRC. One of its main functions is to promote this body of law and try to maximize respect for it.
Westphal believes that "by promoting respect for this we can ensure that all those who are not fighting civilians, for example, soldiers who have been wounded and who are detained are protected and assisted in line with this body of law."
Crucial to understanding the role of ICRC is gaining clarity about armed conflict. Situations of armed conflict are mostly of two kinds – one that is fought between atleast two countries and another that is fought internally between different groups within a country.
On the ground
In explaining the role ICRC actually plays on the ground, Westphal uses examples of the situations in Sudan, Columbia, Somalia and Afghanistan. "We have been working in these countries for decades. Initially we began our presence when the fighting started, since then our presence has remained permanent because the tensions and the suffering it caused, continues till date. Unlike in natural disasters, in war, there is seldom a kind of single event that triggers things. Our long-term presence is extremely important because it helps us to really understand people's needs in what are often very complex and polarised situations," explains Westphal.
In the event of an armed conflict, typically the first thing that ICRC does is to remind governments and rebel groups of what their obligations are under the law and how they have to treat civilians and other people it protects during combat. Depending on its presence and ability, it starts to access what the needs are, who is most in need and how to develop a relief activity around it.
Regions under operation
While ICRC is present in roughly 80 countries, not all these countries are actually involved in war. Some find themselves in what are effectively 'frozen' conflicts: while there may not be any fighting there is no lasting peace either and the conflict is yet to be resolved. Here the ICRC tries to tackle some of the lasting after-effects of war, for example, by supporting the families of people still unaccounted for or helping those displaced by war and unable to return home. In these situations as well as in many countries at peace the ICRC also works to raise awareness of International Humanitarian Law, including by engaging in training with armed forces and discussing with armed forces and discussing with officials on how to translate its rules into national legislation.
"There are at present around a dozen situations where two-thirds of our budget goes, where more than half of the staff is employed. These areas currently include Afghanistan, Iraq, Sudan, Somalia, Columbia, Yemen, Israel and the Palestinian territories. Unfortunately war and the suffering it causes, especially for civilians has been an everyday reality in these countries for many years," says a passionate Westphal.
Assistance, Protection and Prevention
Investigating further into the activities undertaken by ICRC, Westphal divides them into three broad categories – Assistance, Protection and Prevention. While assistance involves delivering food, shelter and providing clean drinking water, protection aims to ensure that the vulnerable and the needy are treated in accordance with the International Humanitarian Law.
"We visit prisons to make sure that the prisoners are treated humanely; that they have access to basic living conditions, sanitary conditions and medical care", says Westphal elaborating on the protection function. Prevention is largely related to training and making more people aware of the law. We also make countries that are at peace, aware of their obligation to respect and ensure respect for these rules," explains Westphal.
To be able to do its job and to reach those in need on all sides of the front lines while ensuring the security of its staff, the ICRC has to be scrupulously neutral, independent and apolitical. Westphal categorically insists, "We are not a political organisation, we are purely humanitarian and neutral in our operations. This can be an extremely difficult position to convey and convince people in war zones. It can almost sound as though you are indifferent but we have to be certain of maintaining an unbiased, apolitical stand."
Building a communications strategy
Westphal coordinates with a network of communicators throughout the offices in the 80 countries, establishing the link between headquarters and the field.
Drawing specific light to his current role, Westphal says, "I am currently coordinating our activities in public communication including media relations, social media, audio-visual production and online and print publishing. I am also looking at a plethora of activities linked to environment scanning, issues management, reputational research and internal communications and public communications. With a view to building a long-term strategy around communication, my role involves overseeing all the various domains and integrating all the channels as much as possible."
Environment scanning
Environment scanning aims to strengthen the ability of ICRC to understand what is going on around it and to gain an in-depth understanding of the situations they work in. "As part of this process, we not only analyse our presence in the media but also the broader issues that are of interest to us. This is also used to see how we benchmark with our competitors. Our colleagues in the various field offices monitor the environment in which they work. The aim and the challenge is to prioritise and to analyse information and to make it accessible to our colleagues so that it can contribute to their planning and implementation of activities in the field."
Reputation research and internal communications
Over recent years, the ICRC has also consulting key stakeholders including governments, senior military officers, journalists and leaders of International Red Cross and the Red Crescent Society on its reputation and the drivers that shape it. "In future we also plan to consult other stakeholders such as the direct beneficiaries of our aid work in the field and our own staff," says Westphal.
Considering internal communications as a major support function to enable the managers to communicate effectively, Westphal explains, "There is an understanding that major institution-wide initiatives that bring about significant changes to the way we do things have to be systematically supported by internal communications. For example, we are currently working on a new people management policy. How to explain that policy to 13,000 staff in 80 countries and how to gauge their feedback is a core element of that project."
Social media and online communication
The 2009 Red Cross and Red Crescent Campaign titled – 'Our World We Move' – familiarized the institution with the use of social media. ICRC has begun using Facebook, YouTube, Scribd and Twitter and is continuing its presence on these social networking sites.
"In terms of tools I would also like to highlight the Intranet. Even though we have not had it for a very long time, it is a hugely valuable tool. We are now able to push the information out to our colleagues all over the world, much quicker which leaves less space for rumours and half-truths."
He notes, "I must add here that the tools on their own without the behaviours and the mindset needed for effective internal communications will only have a limited impact."
The only reservation Westphal holds in using social media is jeopardizing the neutral image ICRC must maintain at all times. He is categorical about not getting involved in politics and continually trying to maintain an unbiased image, whilst using new media to its greatest benefit.
Public communication
Much of ICRC's public communication happens in the field. In addition to relying on social and traditional media, ICRC also spends much time on face-to-face dialogue that can go right down to the rebel groups who manage the check points. Westphal considers this field-based communication absolutely vital and supports it through training and capacity building. The use of online media, social media and print publications helps to maintain strong media relations.
Crisis communication: 'The Gaza War'
Westphal refers to the confrontation in Gaza as an apt case study of a crisis communication situation.
In December 2008, sustained terrorist attacks began in Gaza and they continued through most of January 2009. In retaliation to the attacks by Hamas, the militant group in Gaza, Israeli forces opened fire on the Gaza strip. 'The Gaza war' continued for a period of three weeks.
"We were one of the few aid organisations that had a substantial presence inside Gaza. Also, under International Humanitarian Law, Gaza is an occupied territory – it is a situation where the law directly applies," explains Westphal.
Much of the debate in the media worldwide at the time focussed on how both sides conducted their operations and whether this was done in accordance with international humanitarian law. Westphal recalls:
"We had many questions about the behaviour of the two sides. But the very first challenge we faced was internal, namely to bring everybody on the same page. It is a tough task, given that it is not that easy to know what's actually happening on the ground. Communicating in Gaza and with Gaza was very difficult. Our own peoples' movements in Gaza were very restricted and for them to explain what was going on the ground was not that easy."
He continues, "Secondly, we are a very diverse organisation and people approach these issues very distinctly and under various influences. We had to make sure that colleagues in Gaza, Tel-Aviv, the rest of the Middle East, Europe and Washington are all on the same page. It takes a lot of internal communications to do so and it all has to be done very quickly. There was also a lot of public and media pressure on ICRC to take a position and to publicly judge, assess and give a verdict on what was going on. But to do this publicly risks jeopardising our acceptance as a neutral and independent organisation and thereby our ability to reach those people who need us most."
Describing it as "a very intense operation – 24 hours a day/7 days a week" – he accepts that while everything went well on the ground, there were moments of incredible tensions; and quite a few learnings were drawn from the event. In particular, there was a need to develop a more comprehensive communications strategy – even if to do so in the midst of an acute crisis can seem counter-intuitive.
Case of Egypt and Tunisia
The sort of situation there is, largely conditions the presence of ICRC and the role it is able to play. While Egypt and Tunisia experienced a lot of violence earlier this year, neither situation could be described as war. Traditionally, in both countries the ICRC had been focusing on communications around International Humanitarian Law.
"In Egypt and Tunisia, the first thing we wanted to know was if anything had happened to our colleagues based in these countries. That is where the internal communications work first began," Westphal explains.
"Prior to the recent events, our activities in Egypt had been very much focused on communications. We ran our Arabic language websites from Egypt and had experts based there promoting the awareness of the International Humanitarian law and building contacts with National Red Crescent Society."
In response to the most recent crises in both countries, the ICRC quickly stepped up its action distributing medical supplies to hospitals in Egypt and visiting prisoners in Tunisia.
Evaluation
Westphal mentions that both quantitative and qualitative evaluation is crucial to assessing the ICRC communications. "We use Factiva and broadcast monitoring services, focussing in particular on a core list of more than 100 media outlets to measure our visibility. We occasionally commission more in-depth media analysis to assess our impact. We then decipher what needs change and adapt our communication strategy on the basis of those learnings," explains Westphal.
With a passionate belief in the mission of ICRC and with a conviction to see it grow, Westphal has many plans for the ICRC's communications. One of them is the idea of organising an event on the Red Cross and Red Crescent in association with TED later this year.
"But no matter what new ways we find to communicate about the ICRC, we must never lose sight of an organisation that is above all rooted in reality of the situations it works in and the people it tries to help. That's where we have to be able to deliver."
—
Repairing the leak that changed the world
Some people call him an anti-American terrorist. Some call him a maniac and some call him a sire of the Internet age. He is the man on the run with the biggest leak in history. Julian Assange, the name polarizes people. Between the portrait of a messiah and the face of a manipulative hacker, his image hangs precariously somewhere in the middle.
The Leak
Assange, the mind behind the extraordinary leak of half a million classified US State department cables that were revealed in November 2010 has been a historian's dream but a diplomat's nightmare.
From reports of worldwide significance like the dangers of Pakistan's developing nuclear weapons to diplomatic title tattle, the cables have revealed information that is highly sensitive in nature inviting a furore of questions about the right and wrong; the ethical and unethical, the perils of digitization and the role of new media in society.
Investigations into the issue have revealed that these cables were among the huge electronic archives that the US state government had put under a system program called SIPDIS. It stands for Secret Internet Protocol Router Distribution Network and the purpose of it is to make it easier to share information among US government agencies.
Further research into the source of these leaks uncovers the name Bradley Manning, a former soldier who has been allegedly charged with leaking confidential information and is currently awaiting a court-martial.
Understanding different perspectives
Through various events, a cloud of perspectives and opinions have enveloped this issue. Fingers are being raised at the authenticity of the leaks, the possibility of the leak being above the law, the intentions of Assange being anti-American and the credibility of Assange himself.
On one hand, the current defeat of the Whistleblower Protection Enhancement Act in the US is a reflection of the extent to which the leaks of government documents have affected lawmakers and on another, the release of his book, WIKILEAKS – Inside Julian Assange's War on Secrecy, in collaboration with the Guardian, has sparked off a movement among citizens and journalists alike who have embraced the role of activists of freedom of speech, independence of the press and the public interest.
"I think that there are two issues: the state department cables and WikiLeaks. One is embarrassing and of political significance, the other is a process with an intrepid story and interesting personalities," says Dr Dannie Jost, Resident Philosopher at the World Trade Institute while speaking at an event recently held in London organised by the London Communications and Engagement Group on the issue "WikiLeaks – Does it Matter?"
An anti-American agenda?
Revered Columnist of the Washington Post and Senior Fellow at the Council on Foreign Relations, Michael Gerson expresses his firm rejection of the idea that information should always be free. In his column titled 'WikiLeaks gives dangerous ammunition to a tyrant", he says, "Secrecy is often the precondition for political opposition in an oppressive society and secrecy can also be a necessary protection for honesty. The quality of disclosures in the confessional would be diminished if confessions were posted on YouTube."
Holding the same school of thought, Mark Fitzpatrick, Director, Non-Proliferation and Disarmament Programme, International Institute for Strategic Studies and former US deputy Assistant Secretary of State remarks, "Assange's intentions were purely guided by antipathy for America. How can we trust the intentions of a man who has risen from being a hacker? This is purely hacker anarchism and is an Anti-American agenda."
Contradicting this, a senior journalist from the BBC who did not want to be named, responds, "I don't know much about Assange's motives. Putting the world to rights and exposing wrong-doing appear to be high on his agenda. I think it would be too simplistic to just try to brand him as being anti-American. In fact, I would like to question as to what is happening to the American serviceman who is the source of much or most of the controversial material. The conditions under which he is being held amount to a gross breach of his human rights and he should be rapidly brought before a court or released."
Role of media
The question then arises whether the media is fuelling an antipathy for Americans or is it actually acting as a conduit of truth revealing what should be in public interest? "The role of media will never change. Just by its definition media mediates, carries information and enables interaction. I think that it is our view of the media that is evolving. Media is powerful stuff and all politicians know this. However, we also have to recognise that media is a business, a necessity and an evil at times," Jost points out.
The senior journalist from the BBC remarks, "I don't think it has changed the role of the media. It is mainly the sheer size of the material and the channel through which it was released which makes it different."
In response to whether the media should have helped in the release of these documents, he adds, "Once the documents or the information came into the hands of WikiLeaks, publication was in my view the only possible course especially for material which threw light on serious breaches of human rights and responsibility for loss of life."
To this one can add that in this given age and time, where news and information has taken the shape of a global commodity, do we need to reconfigure the meaning of public interest? What may be of interest to one may bring much trouble and humiliation to another.
A sustainable model?
On another note, given that Visa and Mastercard withdrew their support of WikiLeaks through tremendous pressure from the US government, for how long can this model of media, acting as an international activist, sustain itself?
"Any actions taken by credit card companies against Wikileaks on political rather than credit worthiness grounds must be labeled abhorrent. But this area does point to the Achilles heel of a very small and inexperienced organisation when taking on the powerful armoury of states and big business", explains the senior journalist from the BBC.
"I find the process, the narrative, and the discourse fascinating, necessary and inevitable. The media landscape is evolving, technology is pulling it by the ears, and we are watching the show. Humans (society) want to know and as long as we want to know, the media will adapt to fulfill our information demands," says Jost.
Bringing another perspective to fore, Matt O'Neill, Managing Director of ModComms Limited, a specialist communications agency says, "Let's be clear about something. WikiLeaks in itself didn't draw much attention at all. It was a concerted and co-ordinated mainstream media effort that did. Der Spiegel, The Guardian, Le Monde, El Pais and The New York Times were the ones that really shone the spotlight when releasing selected diplomatic cables. As much as the Internet glitterati would love to believe WikiLeaks and its ilk represent a new power, I believe they are currently deluded. It still takes a mainstream media narrative to bring issues to the attention of the wider public."
In the tug of war between independence of the press, freedom of speech and the other stakeholders who have titled this issue as immoral and unworthy, it is difficult to judge whose win this is in the end. "The guy with the big gun will win in the end! They say that the pen is mightier than the sword, but they said nothing about guns. All kidding aside, I think that authentic words are not to be underestimated. Reality and future are first a Gestalt made of words," Jost remarked.
Challenge for the internal communicator
Referring to the communications industry in particular, O'Neill says, "Internal Communicators and HR professionals may find in the future that part of their job description includes developing 'insider threat' programmes as highlighted by the Obama White House recently. This could include designing activities aimed at highlighting employee propensity to leak sensitive information. That to me, seems a practical implication for in-house practitioners of the near and mid-term future."
This event has lead to many implications and is a wake-up call for politicians and companies to recognize the arrival of new media, technology, digitization and the perils that come with it. What effect this eventually would have and what fate awaits WikiLeaks is an answer we all eagerly await. However the gamut of issues it has raised concerning the media, the citizens and the state cannot be overlooked.
—
Putting employees first and customers second
"Any transformational journey requires innovation both in what you do and in how you do it." That's the description Vineet Nayar, CEO of HCL Technologies, gives to the journey he made to make HCL one of India's largest technologies company.
Nayar believes that "the asset base of his organisation resides in the talent and creativity of his employees" who determine the internal culture of HCL. He is a strong advocate of the management approach that puts employees first and customers second which happens to be the title of his recently released book. In the insightful book, he shares his approach of management and relates how he transformed his company into becoming a market leader with an engaged workforce.
The journey
Through various chapters in 'Employees First, Customers Second' (EFCS), Nayar explains how his thinking migrated from old to the new. He attempts to break through the traditional hierarchical structure to one that decentralizes power, responsibility and accountability for value creation. The cultural influences to this approach of management and the need for honesty, transparency, trust and dialogue at all levels of the organisation is what Nayar stresses in the latter part of the book.
Managing Gen Y employees calls for a new set of capabilities. Amid the current boom in knowledge-based businesses, the need to have an excited team of individuals to take on one challenging task after another is pertinent for a company's productivity, according to Nayar. "There lies an inherent value in every employee, in his or her knowledge, creativity, commitment to tasks and capacity to collaborate and focus," he writes.
He begins to narrate his journey of organisational transformation that started as early as 1976 when HCL took shape in a barsaati, (the Indian equivalent of a garage) through the efforts of a group of young entrepreneurs. Nayar describes the year 2000 as the profound moment of change. "In the year 2000, we fell into rough waters and competition took over HCL by surprise," he recalls. In the book, he explains this period as one that made him realise that HCL was using a wrong mix of services for a changed marketplace.
"When the brakes fail, the change is instant and you have no choice but to try to think of options for action." With this thought Nayar dives into a sea of strategies and begins a process of organisational transformation.
To describe his tactical approach he divides the book into distinct chapters, each detailing an aspect of the EFCS approach.
Reflections in the mirror
The first chapter, titled Mirror Mirror, describes the process of creating the need for change. Nayar explains how he forced his employees to look into the mirror and recognize that the change in the company had taken place for the worse. He asked his employees to point to aspects that they didn't like about the image they saw in the mirror. He directed their thoughts by asking them to perceive the future as the romance of tomorrow and motivated them to press the accelerator of change to the floor even when logic was telling them to step on the brake.
"Once you have created the need for change there is often a significant gap between the intent to change and the actual act of changing," Nayar points out in the book. Creating a culture of change is what the second chapter of the book entails.
The reason for this gap as pointed out by Nayar is a lack of trust among employees.
Giving HCLT's example he elaborates, "At HCLT, we focused on one specific trust-building action: pushing the envelope of transparency. When you bring this information out in the open and make the challenges public, employees feel included."
Inverting the organisational pyramid and building a structure of change is one of the more profound approaches explained by Nayar in the third chapter of the book.
"Even when people see the need for change, after a culture of trust has been created, and employees have started taking actions towards positive change, structural flaws can still get in the way of optimal results," Nayar says.
For HCLT, the problem lay in not identifying and supporting the efforts of value creators who are placed between the customer and the employee. The value creators stood accountable to managers who are typically located at the top and do not directly contribute to the value zone. This isolates the higher management from the process of value creation and robs the actual value creators of the recognition they deserve. A radical change in this organisational structure is what made the difference in HCLT.
Thinking out of the box
Nayar dissuades people from conducting new age business with centuries old structures and recommends that companies seek sustainable change through radical organisational restructuring.
Pointing out one of the structural flaws, Nayar says, "The leader holds too much power in a traditional management system which prevents the organisation from being democratized and hinders the energy of employees."
Recasting the CEO
In the fourth chapter, Nayar talks of the role of the CEO and how transferring the responsibility for change can give a competitive edge to a company in a knowledge economy. "As CEO, you must stop thinking of yourself as the only source of change. Others must be seen as the source of change. CEO's must start transferring ownership of the organization to the next generation of leaders who are closer to the value zone."
To create a company that is self-run and self-governed, one in which employees feel like owners and are excited about their work and constantly focus on change, the employees must be seen as the source of change by the CEO. "One must think carefully of the office of the CEO and not just the role of the person who holds the job at the moment," Nayar says.
Blue ocean droplets
Nayar calls each of these actions catalysts of change and explains, "Catalysts are simple actions, rather than elaborate programs of organisational change that plod on for years and years and can help transform a locked up culture into one that can constantly evolve."
As "blue ocean droplets," Nayar says, these small ideas can create an ocean of change and enable a company to enter an entirely new performance zone, no matter what its current situation may be. "It just takes one catalyst idea, one droplet to begin the transformational journey."
Creating your own path
Nayar concludes the book by saying, "You must make your own journey. Your thinking phases are likely to be different from ours. Your catalyst may be different too. One thought, however, should be fundamental to all our journeys; turning conventional management upside down by putting employees first."
So what do other companies think of Nayar's management approach?
We asked Sandip Mallik, HR Director of Aviva India, if Nayar's approach would work effectively for his industry and his company.
"With 180+ offices spread across the country delivering a consistent employer experience is extremely difficult. Unlike IT companies that consistently feature in the top employer lists we do have a single campus or two to work on."
He adds, "We therefore bank very heavily on two things. One, a defined engagement calendar which is announced at the beginning of each year for every single location, irrespective of size; and two, more importantly, leadership behavior which creates the culture and work environment on a day-to-day basis."
So does Mallik agree with Nayar's school of management of putting employees first and customers second?
"For us, all stakeholders drive our success. I am very familiar with the employee first model but that too is eventually meant to benefit the customer or the other stakeholders like the shareholders or the society at large. We are sharply focused on all four stakeholders – shareholders, employees, customers and the society. It is never a tradeoff between one or the other."
He elaborates, "I can't imagine a successful company making a choice of one or the other. The employee first campaign is more a branding strategy to differentiate workplace practices from other companies. It creates the right kind of buzz for employees and leads to differentiation as we compete for the same resources."
Adding a human touch
While Mallik differs with Nayar in terms of approach, the recognition of employee engagement seems ubiquitous.
"All of us, regardless of country or culture, have a sense of our own significance – that we matter, that we deserve to be treated with dignity. Interactions which abuse that sense of ourselves tend to frustrate and anger us, while those which acknowledge and appreciate us are highly satisfying," Mallik explains.
He continues, "We at Aviva recognize that small human touches can make a huge difference to an employee's experience. It is very clear to us that by taking extra care to recognise employees as individuals, each and every time we engage with them, we will connect more powerfully, serving their needs better – and our business will benefit from their engagement and loyalty in return."
Simply worth a read?
Nayar's book with its systematic approach and tactical layout makes for an impactful read. It succinctly encapsulates Nayar's journey to transform a traditional hierarchical structure that hinders decentralization of power into one that engages the workforce and accelerates the company goals and productivity. The book is inspiring in the way it validates the reasons for change and encourages leaders to make that bold step.
In support of Malliks view, choosing one stakeholder over another may not seem pragmatic to many companies, particularly small businesses. The approach cannot be considered as a capsule for guaranteeing a company's performance.
Nevertheless, the book makes for an intriguing read and throws a fresh perspective into organisational restructuring and employee engagement.
—
A meeting of media minds in Manchester
By Karuna Kumar
"We've gathered here to examine the changing media landscape and address the creative and commercial challenges we face, along with opportunities to develop new partnerships and collaborations," is how Media Festival 2010 Director Louise Benson kicked off the third annual event in Manchester on the 17th of November.
In the opening address, Festival chair, Julie Meyer, CEO of Ariadne Capital welcomed attendees with an interesting perspective for multinational companies:
"The opportunity really is in how we create high growth firms which break through and become global leaders. As an investment firm, we look out for companies that have a couple of winning characteristics. First of all – a lean operating model with low fixed costs; their inputs should match outputs and they should be using technology and finance cleverly.
"We see ecosystem economics at play. The companies that are winning understand their place in the ecosystem and they are able to architect the most inclusive business model for the sector."
Following the opening keynote was a panel discussion chaired by Krishnan Guru Murthy, prominent anchor of Channel 4. Making up the panel was Feargal Sharkey, CEO, UK music; Nick Rind,CEO, CTI Digital; Dave Bird, Manchester Metropolitan University Business School; Paul Clennell, Chief Technology Officer, Media City UK and Julie Meyer.
One of the questions that got the panel talking was, "Is there any point having a government strategy for creative industries?"
Sharkey's response was particularly thoughtful. "You could say the exactly same argument for any other bit of the economy. The basic fact of life is we want to ensure that any or every young creative person in the UK is getting every bit of support and opportunity they can."
Other topics that were highlighted through the course of the discussion were funding for the creative entrepreneur, the successes and failures of local television, the business of content creation and the skepticism of the media entrepreneur.
Day Two
The second day of the conference opened with an enlightening session presented by Andy Cameron, Interactive Creative Director at Weiden + Kennedy, speaking about 'Content for the future'.
In his address, Cameron stressed how the online platform has revolutionized the way we create content. When acknowledging the smartphone sector, Cameron said, "In a couple of years, there are going to be more smartphones accessing the internet than desktop and notebook PCs put together. That's a big deal. That changes the game for all of us."
Looking at future trends in market share across various smartphone operating systems, Cameron stated that the two big players are going to be Symbian or Nokia and Android, holding Apple as an exception that has made big profits despite a relatively small market share. Cameron emphasized the importance of  creating content that fits into this changing trend, referring specifically to apps.
"Let's end up with a vision of the future where apps move off the mobile device and become pervasive, ubiquitous, where they move into all kinds of other devices in our lives."
Cameron's keynote was followed by a panel discussion on 'The gamification of everything' and "What's next in Global TV?'.
While the former elaborated on the prominence of interactive games and the current burgeoning gaming industry, the latter took a look at the future of TV and how it interplays with online content. On the distinguished panel were Peter Smith, President, NBC Universal; David Booth, Vice President Programming, MTV networks; Dan Korn, SVP Head of Programmes, Discovery Networks Europe. The discussion was moderated by Alex Connock, CEO of Ten Alps.
Booth started off the discussion explaining the kind of journey MTV international has encountered over the last 12 -15 months:
"We're at the tail end of a brand equity study whereby we are really trying to understand what it means to be a teenager in a modern society and what we've found is that our audience is completely different from what it was when we grew up. They don't necessarily rebel. They rebel but they rebel against pessimism. They're very positive in their attitude."
Smith offered, "We think there is a swing back to scripted drama. Programming that really cuts through the clutter. One of the other things we're going to do is move into reality."
"At Discovery we are lucky – we've got very strong factual franchises which work globally. Alongside those franchises, I think what we've tried to do is have a series of real scale. The interesting thing about Discovery is we've got this wonderful factual brand but actually in entertainment we've not had the same amount of success. Two other trends which I think are interesting are the observational, classic documentary and growth in the news category," Korn pointed out.
The panel went on to discuss online strategy and the mobile phone strategy for films.
Other discussions that followed through the day delved into understanding  the flexible media company of the future; exploring the business models of digital publishing; multi-platform storytelling and commissioning.
Day Three
The third day of the festival began with a keynote address by Richard Halton,  Chief Executive of YouView.
"Content really is the secret of success for any platform that has those two magical letters, TV, in them and I think the vision that we have for YouView is very much a content centric one.
"For content providers, YouView is there to provide a really simple environment, technically, to allow people to publish content and earn revenue from it. For ISPs, it's the opportunity to convince customers that they really should have bought a 50 meg broadband connection all along and for consumer electronics manufacturers, we're developing a really simple set of standards, for them to follow, to make a set-top box and retail into the market, which is exactly the same model that's followed today, to make Freeview devices for UK homes," Halton explained.
A valuable three days
All in all, the media festival was instrumental in igniting curious minds with sparks of insight about the past and foresight for the future – defining a sense of direction for the present.
—
O2 fosters recognition for the employees, by the employees
By Karuna Kumar
It's won an award; has the support of 95% of its employees and engages a large number of staff on a weekly basis. It's a simple tool called Fanclub created by the innovative minds at O2 for a workforce of 11,500.
"Simply put, it is an internal social networking site that offers an experience around a single purpose – to create personal fans," says Jenny Burns, Head of Internal Communications at O2.
At the heart of O2's strategy is the 'Customer Promise' charter that aims to deliver the best customer experience and draw customer loyalty to the brand. The initial idea was sparked off by the need to fulfill the main elements of the customer promise and recognize talent that is instrumental in fulfilling the customer experience. Internally the challenge for employees at O2 is to deliver customer promise to the best of their capabilities.
Research undertaken by Burns' team unveiled an innate need for employees to use an online tool to recognize the efforts of colleagues. As a result, O2 came up with the idea of launching a micro-site that would act as vehicle by which peers could acknowledge each other's efforts. Thus Fanclub was born, recently winning the award for best Internal Comms campaign in the Corporate & Public category at the PRweek awards.
A user-friendly structure
The structure is simple. Each user has a homepage where he/she can upload a picture and profile information so that peers can recognize them. Like Facebook, the site allows for social interaction with friends, enabling colleagues to 'applaud' one another for successfully fulfilling the customer promise objectives. ('Applause' refers to comments published by colleagues online).
Once you applaud a colleague, he/she receives an email notification. Likewise, when logging on to Fanclub, the user is informed of the applause.
For Burns, the effectiveness of the feature lies in the fact that the recognition comes from people's peers.
Join the club!
To demonstrate the impressive engagement level the site has helped to achieve, just look at the database. According to Burns, 11,000 out of 11,500 O2 employees are already active users.
"It is a means of instant gratification where peers can recognize each other's efforts on a minute to minute basis. At present the micro-site sees almost 2,500 applauses each week. In terms of numbers, 20% of the employees get applauded on a weekly basis," Burns explains.
She adds, "Senior employees often make it a part of their diaries to do so, for example on a Friday morning. The good part is that the site is accessible through smartphones as well."
It is interesting to note that an initiative that began as a test piece for social media has hit such high numbers within a short span of time. Burns explains, "The only comms we did around Fanclub was viral. We started talking to people about it and nominated some to spread the word. We also have a tool called 'nudge', which essentially fulfils the purpose of a polite reminder to the users about updating their profile and "getting their act together."
A means to celebrate
There has been debate in the corporate circles about the extent to which employees can be given freedom to express their views openly. For Burns, it's not really an issue.
"We don't monitor the platform since we believe it's about celebrating each other's achievements. There is no place for negativity. Besides, we do place a lot of trust on employees for using the site beneficially."
Keeping the momentum going
Launching a new form of internal communication is one thing, but keeping the excitement around it alive is quite another.
To keep content fresh, Burns and her team have added a new application called 'Fansnaps', where employees can upload pictures around a topic. The photos can be personal or business-related.
Also, Burns says,
"Each week, our CEO picks out one of the 2,500 applauses exchanged on the site and awards the person recipient a holiday voucher worth £1880, which we call the 1880 winner."
Superfans
In addition to day-to-day recognition, O2 also hosts an annual event called Superfans, an award ceremony recognizing the employees who have been most proficient in fulfilling the customer promise.
"Last year, we had over 1000 employees spread across three locations. A live video link-up connected the three events, which were hosted by Matthew Horne, James Corden and Reggie Yates. This year around we are expecting around 800 guests and are planning to call on a music band," Burns explains.
Despite the recession, compromising the Superfans event is never an option for Burns. "It is a big part of our engagement calendar," she says.
Integration with other IC channels
On a futuristic note, while Fanclub is a standalone micro-site, there are plans to integrate it into the company intranet early next year. In addition, O2 plans to seamlessly integrate the micro site into SharePoint 2010, which the company is set to adopt in early 2011.
"This way we can fully integrate the homepage into the respective employee user systems. It would be more personalized and all the personal activities can be seen on the homepage," Burns points out.
The secrets to O2's success
Fanclub has revolutionized the traditional employee recognition model at O2 and is an exception to the conventionally followed top-down approach.
Having carried off the successful Fanclub initiative, Burns' secret was to not complicate the tool.
Her three best practice tips can serve as inspiration for companies trying to adopt social media internally:
"One, companies should have a clear focus. They must link their strategies to their business plan. Two, it is important to understand employee's needs and to create a desire for the tool among employees before launching it. Last but not the least, it is important to ensure more functionality in the infrastructure."
In short, Burns says, "Keep it simple and have a finite goal. It is a business tool and everybody should be aware what they are expected to use it for."
—
How new media revived the shrinking army of interpreters at the European Commission
By Karuna Kumar
"A global shortage of qualified linguists" was one of the profound concerns expressed at a meeting of 76 international language service providers at the Organisation for Economic Co-operation and Development in Paris back in June.
The same concerns were echoed in our interview with Ian Andersen, External Communications Adviser at the European Commission's Directorate-General (DG) for Interpretation.

The challenge
The European Commission, EU's executive body, had issued a declaration together with over 70 other international and regional organisations calling for more awareness among universities and schools about the learning and career opportunities for interpreters, translators and other skilled language professionals. With a mission to put multilingual communication at the core of community decision-making, Ian Andersen recognizes the greatest challenge for his office in the next ten years is "to replace half of our interpreters in a number of key languages."
Those who were hired in the early 70's and early 80's have worked their way through the system and are seemingly retiring all at once.
Andersen explains, "Over the next 10 years, we will be losing about half of our English interpreters and 40% of our French, Italian, German and Dutch interpreters. So, it is quite a challenge to find people in all these new languages." The European Commission currently works with over 20 languages.
Quality management
Andersen emphasizes the significance of getting the right people into the job – those who can understand the challenging nature of work and adapt to it. According to Andersen, hundreds of people are tested every year, but very few people (a mere 20%), actually make it to the positions.
"Quality is an essential issue for us. We have regular listen-in reports usually carried out by the head of the unit, which are then compiled and advice is given to the respective interpreters."
The nature of interpretation is grossly different from translation. Once the product is out there, it cannot be taken back and revised. The element of timeliness makes the job of an interpreter all the more demanding.
The make-up
The structure of the European Commission is complex and has often faced criticism for being highly fragmented. The Commission is divided into departments known as Directorates-General (DG's); each covering a specific policy area or service, headed by a Director General. Director Generals report to a commissioner appointed by the Member States.
The EU institutions employ a little over 4000 interpreters. There are about 1100 staff interpreters; about 600 for the commission, 400 for the European Parliament and 100 for the European Court of Justice. In addition, there is a joint pool of approximately 3000 freelancers.
New media – the new interface
Using social media as an interface to connect with the new Generation Y and attract talent for the interpreting service, is a big part of Andersen's communications strategy:
"We took a hard look at who our potential audience is and tried to redesign a campaign that would work. We thought that the kind of people we would be looking for – with an international outlook, knowledge of languages and  a likelihood to study abroad – live on social networking sites. We thought here is the perfect vehicle."
The interpreting service began using YouTube to create videos and distribute to schools and other institutes in a pursuit to create more awareness.
So what kind of traffic are the videos seeing?
Andersen says, "We made a video for English to European interpretation and it is currently running at 40,000 hits. And our French equivalent is running at almost 30,000 hits."
While the numbers on YouTube were quite strong, Andersen opted for an even more engaging platform – Facebook. In an effort to use more channels and increase publicity through more socially oriented means, DG interpreting service created a fanbook page, which currently has 10,000 friends. The page is used to engage in a daily dialogue with the visitors via postings of facts about the services, institutions and languages.
Andersen explains:
"When Jacques Delors, a former President of the Commission came to speak in the European Parliament the other day – on the occasion of the 20th anniversary of the German unification – we shared the event information on the page and it turned out to be a very popular piece. So the page can be used to post many different things from the very mundane stuff like how many microphones does this service manage to the more technical, historical and political talk about interpretation."
Facebook – the main vector

Facebook has been the main vector for DG-Interpretation. While Andersen believes that advertising can be a beneficial way to reach out to people and could bring a strong return on investment, he is categorical about the benefits of the viral spread. "If you put a message across and it gathers a million hits, it is nirvana for the social media communicator."
Measurement
So while social media efforts are in place, what are the real measurable outcomes?
To this Andersen responds, "We have different problems in different countries. In the UK, there has been a decrease in people who study the languages in the past 10 years. So we have understood that we need to create awareness about us at the pre-University level. In other places, it is important to create awareness at University levels. In terms of real outcomes, the registrations for the two most revered interpreter schools in Paris were up by 140% and 60%. For the best interpreter schools in the UK, we are looking at about a 100% increase in applications."
Convinced that their efforts are having the right kind of effect on the ground, Andersen is conducting a detailed study on what part of the social media campaign works. His goal is to create a benchmark for pre-campaign awareness.
Technology as a threat
In contemporary times, a fear of technological innovations replacing human resources looms large. The propensity to embrace machines as compared to hiring actual interpreters is sure to hit the industry.
Andersen's thoughts on the subject?
"Machine translation is great to get a general idea but often we have seen that we take more time to post-edit the machine translation than to translate it correctly in the first place. Text to speech can be simple, where a voice of the computerized program simply reads out the message; the trick is from one language to another language. There can be multiple ambiguities that the machine can process. You need a sensitive human to make a choice as to which of the double or triple layers of meaning make actual sense."
As an afterthought, he adds, 'There is also a difficulty of dealing with accents which will be even more difficult for a computer system. I don't think the generation we are recruiting should be worried at all. It is the next generation that might face this issue."
The road ahead
With a futuristic outlook, Andersen explains that regional differences and the approach towards language have a profound role to play in deciding the areas where more efforts need to be made.
In France, he says, people are quite interested in their language, and traditional media "took very well to our campaign." In the UK, there has been less interest from the media but Anderson and his team are looking at Radio 4 programs as a medium to lure more interpreters.
Convinced about the changing dynamics of new media and determined to use them strategically, Andersen is a man with a mission – to motivate Generation Y to help make sure that Europeans working together in the EU will continue to be able to understand each other – even if they do not share a single language.
Follow EUInterpreters at http://twitter.com/EUInterpreters
—
How companies in Pakistan are working through a national crisis
By Karuna Kumar
"There seems to be some confusion about what's going on here. About 1/5th of Pakistan is now submerged under water and 1/4th of Pakistan is in ruins," exclaims Omar Salim Khan, an agriculturist in Lahore, Pakistan.
The scale of the floods that struck Pakistan earlier this month has been monumental. Monsoons, flash flooding and landslides have conspired to bring massive devastation to the soils of Pakistan. The devastation has been so dramatic that the U.N. Headquarters in Geneva are on a wild goose chase ascertaining the number of people that need help. Pakistan's government has claimed that over 20 million people have been affected; the UN places the number at 6 to 8 million who are in need of immediate assistance.
Waters continue to rise and the ruthless tides continue to swamp more districts in the south. Among battered ruins, the homeless and the hungry make their way through the thick sludge; if that's not grim enough, bouts of bomb blasts plague regions close to the Afghan border amid the devastation.
Pakistan in crisis
The situation in Pakistan is anything but stable.
"This is a major economic crisis and affects a big chunk of the industry. It is very worrisome for the commercial and agricultural banks in particular that have given out loans to many farmers. With the already high inflation rates, the current disaster brings forth a situation that is fraught with peril," explains Khan.
Pakistan's national grid is a major source of power for most companies in Pakistan. However, due to its unreliable nature, companies depend on generators for their power supply, which increases their production costs. Due to high inflation rates, the cost cannot be passed onto consumers and needs to be absorbed by the business, leading to losses. This is a major source of concern for employees of most businesses in Pakistan as their salaries bear the brunt of it.
Currently there is a growing pressure from the IMF to introduce major economic reforms in exchange for a multi-billion dollar bail out package. The basis of sanctioning the bail out package is a reduction in electricity tariffs, which is met with much reluctance by the Pakistani authorities. On the other hand, a popular view is that structural reforms, made a few years ago, have brought financial stability to the business environment in Pakistan.
External influences the internal
Such instability in the external environment has led to ramifications on the internal working and operations of businesses. Employees, the human capital, are at the core of this disaster. Submerged in agony and fear, they are expected to continue work as usual so as to maintain production efficiencies and in turn help the Pakistani government.
If one trait stands out in the Pakistani culture, it is resilience. Observing Tetra Pak in Pakistan, a global packaging firm gives a true picture of what it means to carry on with business in a state ravaged by flooding and its aftermath.
Case Study : Tetra Pak, Pakistan
"Tetra Pak's business, like other businesses around the country, is affected as our customers are facing problems in product distribution, milk collection and shelf offtake. The Pakistani government, in light of the crisis, has reduced GDP growth forecast by half percent and that will in general result in slower growth in this fiscal year. However, it is hard to gauge the extent of the damage at this point in time," says Sobia Aslam, Communications Manager at Tetra Pak, Pakistan.
Tetra Pak has donated €100,000 in kind to the flood victims. The company is donating this money in the form of packaged milk and distributing it with the help of its customers. It is also working with Pakistan Poverty Fund and distributing their products under staff supervision.
Sobia adds, "Tetra Pak Pakistan's employees are saddened by this unfortunate disaster and are very supportive of relief efforts. Employees, realizing the magnitude of the crisis, have donated 2 days' salary for this purpose, in addition to direct personal contributions."
Responding to the question of how the current situation has affected the internal working of business in Pakistan, Azhar Ali Syed, Managing Director of the multi-national packaging firm says, "We are finding it difficult to bring in expatriate staff to Pakistan for short or long-term assignments due to real and perceived security threats. On the one hand, it is making it difficult for us to provide world-class service to our customers but on the other hand, we have increased the pace of developing local talent to handle more complex and specialized tasks."
In some cases, for reasons more obvious than not, the impact on blue-collar employees is greater in terms of the high food inflation and the energy crisis resulting in load shedding. However, Tetra Pak is trying to reduce the financial burden on low-income groups through fair remuneration packages. The security situation, that has affected all employees alike, is yet another problem that Tetra Pak is trying to deal with.
In this hour of agony, motivating employees, encouraging them to get to work and maintaining internal efficiency is crucial for Tetra Pak in Pakistan. To this, Sobia says, "Communicating with employees at this critical time is imperative and the management has made sure that employees know about what is being done in terms of relief efforts and that they are involved in the activities themselves. The senior management has been sending weekly reports on the floods to lower management, sharing updates and their impact with all employees."
Syed adds, "We have taken a number of measures for workers' safety and comfort at the work place. We are involving all employees in the continuous improvement of the working environment."
The other side of the picture
While the management at Tetra Pak seems to be in control of the situation, many people like Saulat Raza, a businessman from Jhang Punjab who works for the government, are in deep agony. Grappling with the immediate misfortunes of the floods, he expresses his quandary:
"I am facing major problems in getting on with my business. There is a lack of electricity and raw materials. The communication networks have also been damaged. My employees are unable to get to work. Of those who do get to work, I'm unable to provide them any salaries for the work they do. I fear losing them as I'm unable to provide them any job security," Raza says.
He points out, "Employees at big companies are more relaxed as those companies are financially stable. Employees of national companies are worried as their jobs are at stake."
These floods have affected about 13% of the entire population of the country. This grim number includes nine million children who are directly suffering. Khan says, "A big shortfall in crops this year will result in importation and loss of foreign exchange leading to a rise in local prices, that are already stifling the common man. The KSE and LSE indices are already sliding due to these developments."
United we Stand, Divided we Fall
A strange thing about disaster is that it brings people together. Marc Wright, a global communication consultant recalls, "I remember when we were doing some comms audits with Barloworld in South Africa in the late '90s.  It was the early days of the new South Africa and violence in parts of Johannesburg was endemic.  We discovered that staff loved coming to work because they knew that they were not going to be shot at or mugged once they got into the compounds of the company. It is a sobering thought that in times of social change the workplace can become the only stable haven in people's lives."
A few drops of optimism inundate this dismal picture. Unity and the pertinence of the phrase – "United we Stand, Divided we Fall' has awakened the people of Pakistan. Across varied industries, employees are working together to fight tough work environments and overcome this disaster. Sobia, Syed, Khan and Raza share an optimistic outlook of swimming through these tough tides and reaching the safe shores in good time.
—
How companies in Pakistan are working through a national crisis
By Karuna Kumar
"There seems to be some confusion about what's going on here. About 1/5th of Pakistan is now submerged under water and 1/4th of Pakistan is in ruins," exclaims Omar Salim Khan, an agriculturist in Lahore, Pakistan.
The scale of the floods that struck Pakistan earlier this month has been monumental. Monsoons, flash flooding and landslides have conspired to bring massive devastation to the soils of Pakistan. The devastation has been so dramatic that the U.N. Headquarters in Geneva are on a wild goose chase ascertaining the number of people that need help. Pakistan's government has claimed that over 20 million people have been affected; the UN places the number at 6 to 8 million who are in need of immediate assistance.
Waters continue to rise and the ruthless tides continue to swamp more districts in the south. Among battered ruins, the homeless and the hungry make their way through the thick sludge; if that's not grim enough, bouts of bomb blasts plague regions close to the Afghan border amid the devastation.
Pakistan in crisis
The situation in Pakistan is anything but stable.
"This is a major economic crisis and affects a big chunk of the industry. It is very worrisome for the commercial and agricultural banks in particular that have given out loans to many farmers. With the already high inflation rates, the current disaster brings forth a situation that is fraught with peril," explains Khan.
Pakistan's national grid is a major source of power for most companies in Pakistan. However, due to its unreliable nature, companies depend on generators for their power supply, which increases their production costs. Due to high inflation rates, the cost cannot be passed onto consumers and needs to be absorbed by the business, leading to losses. This is a major source of concern for employees of most businesses in Pakistan as their salaries bear the brunt of it.
Currently there is a growing pressure from the IMF to introduce major economic reforms in exchange for a multi-billion dollar bail out package. The basis of sanctioning the bail out package is a reduction in electricity tariffs, which is met with much reluctance by the Pakistani authorities. On the other hand, a popular view is that structural reforms, made a few years ago, have brought financial stability to the business environment in Pakistan.
External influences the internal
Such instability in the external environment has led to ramifications on the internal working and operations of businesses. Employees, the human capital, are at the core of this disaster. Submerged in agony and fear, they are expected to continue work as usual so as to maintain production efficiencies and in turn help the Pakistani government.
If one trait stands out in the Pakistani culture, it is resilience. Observing Tetra Pak in Pakistan, a global packaging firm gives a true picture of what it means to carry on with business in a state ravaged by flooding and its aftermath.
Case Study : Tetra Pak, Pakistan
"Tetra Pak's business, like other businesses around the country, is affected as our customers are facing problems in product distribution, milk collection and shelf offtake. The Pakistani government, in light of the crisis, has reduced GDP growth forecast by half percent and that will in general result in slower growth in this fiscal year. However, it is hard to gauge the extent of the damage at this point in time," says Sobia Aslam, Communications Manager at Tetra Pak, Pakistan.
Tetra Pak has donated €100,000 in kind to the flood victims. The company is donating this money in the form of packaged milk and distributing it with the help of its customers. It is also working with Pakistan Poverty Fund and distributing their products under staff supervision.
Sobia adds, "Tetra Pak Pakistan's employees are saddened by this unfortunate disaster and are very supportive of relief efforts. Employees, realizing the magnitude of the crisis, have donated 2 days' salary for this purpose, in addition to direct personal contributions."
Responding to the question of how the current situation has affected the internal working of business in Pakistan, Azhar Ali Syed, Managing Director of the multi-national packaging firm says, "We are finding it difficult to bring in expatriate staff to Pakistan for short or long-term assignments due to real and perceived security threats. On the one hand, it is making it difficult for us to provide world-class service to our customers but on the other hand, we have increased the pace of developing local talent to handle more complex and specialized tasks."
In some cases, for reasons more obvious than not, the impact on blue-collar employees is greater in terms of the high food inflation and the energy crisis resulting in load shedding. However, Tetra Pak is trying to reduce the financial burden on low-income groups through fair remuneration packages. The security situation, that has affected all employees alike, is yet another problem that Tetra Pak is trying to deal with.
In this hour of agony, motivating employees, encouraging them to get to work and maintaining internal efficiency is crucial for Tetra Pak in Pakistan. To this, Sobia says, "Communicating with employees at this critical time is imperative and the management has made sure that employees know about what is being done in terms of relief efforts and that they are involved in the activities themselves. The senior management has been sending weekly reports on the floods to lower management, sharing updates and their impact with all employees."
Syed adds, "We have taken a number of measures for workers' safety and comfort at the work place. We are involving all employees in the continuous improvement of the working environment."
The other side of the picture
While the management at Tetra Pak seems to be in control of the situation, many people like Saulat Raza, a businessman from Jhang Punjab who works for the government, are in deep agony. Grappling with the immediate misfortunes of the floods, he expresses his quandary:
"I am facing major problems in getting on with my business. There is a lack of electricity and raw materials. The communication networks have also been damaged. My employees are unable to get to work. Of those who do get to work, I'm unable to provide them any salaries for the work they do. I fear losing them as I'm unable to provide them any job security," Raza says.
He points out, "Employees at big companies are more relaxed as those companies are financially stable. Employees of national companies are worried as their jobs are at stake."
These floods have affected about 13% of the entire population of the country. This grim number includes nine million children who are directly suffering. Khan says, "A big shortfall in crops this year will result in importation and loss of foreign exchange leading to a rise in local prices, that are already stifling the common man. The KSE and LSE indices are already sliding due to these developments."
United we Stand, Divided we Fall
A strange thing about disaster is that it brings people together. Marc Wright, a global communication consultant recalls, "I remember when we were doing some comms audits with Barloworld in South Africa in the late '90s.  It was the early days of the new South Africa and violence in parts of Johannesburg was endemic.  We discovered that staff loved coming to work because they knew that they were not going to be shot at or mugged once they got into the compounds of the company. It is a sobering thought that in times of social change the workplace can become the only stable haven in people's lives."
A few drops of optimism inundate this dismal picture. Unity and the pertinence of the phrase – "United we Stand, Divided we Fall' has awakened the people of Pakistan. Across varied industries, employees are working together to fight tough work environments and overcome this disaster. Sobia, Syed, Khan and Raza share an optimistic outlook of swimming through these tough tides and reaching the safe shores in good time.
—
Changing the way companies communicate to blue collar employees
By Karuna Kumar
Fighting with dismal work environments, relocating to new jobs, fearing the axe of job cuts falling down on them, living on a hand-to-mouth existence with meager incomes. No, it isn't a Stalinistic Gulag. It is just the plight of blue-collar workers in a recession, which to them is more of a depression.
The state of blue-collar employees has been a heartening one. The West is drowned in corporate restructuring, while the East is slowly realizing how significant a role blue-collar workers play in their labour intensive economies. The colour coding is reflective of a socio-economic class and stands in contrast to the white shirted men sitting at their desks. The difference is stark and apparent – literally and metaphorically.
Inequalities and disproportions
There has been a growing income inequality and labour market displacement in developing countries like India. Income growth has been disproportionate in recent times. Sandwiched between the increasing demands of their work and lower wage growth, blue-collar employees struggle at their work. Engagement is considered more of a privilege rather than a fundamental need. However, one cannot ignore the effect that has on productivity, eventually leading to disruptions in work caused by unions.
In India, the local and national economy has been dependent on the blue-collar work force for most of its manufacturing units. In addition, a tide of global companies are outsourcing labour from India. This combined with the growing demands of expanding the manufacturing and agriculture sector has made staffing companies identify the blue-collar segment as a future growth driver.
Structuring the blue-collar workspace
Companies like TeamLease Services Pvt. Ltd., India's largest staffing solutions company is on a major recruitment spree in Rajasthan, the northwestern state of India, known to have a large pool of untapped blue-collar workers. The company plans to increase that head count throughout the city, from 10% of the workforce to 15% by this fiscal year.
Platforms like www.bharatmazdoor.com are being created to facilitate corporates to reach out to skilled blue-collar workers. Companies are also identifying the need for better integration and collaboration with the rest of their work force.
Changing landscape
Fundamental problems of lower wages, instability in the work place and low growth prospects surround blue-collar employees. Aniisu Verghese, an independent industry observer and a global management consultant, says, 'In India, blue-collar workers work with lower pay and lesser benefits. There also exists a fear of losing the job at hand during a downturn. The other challenge is that blue-collar workers tend to have contractual obligations that make the amount of information provided to the them, limited."
While the need for blue-collar employees is well established, what requires some deliberation is whether organisations are working hard enough to make them feel valued in the work place?
Case Study – Max India Pvt. Ltd.
Nitin Thakur, Head of Communications at Max India Ltd., a multi-business conglomerate focused on service oriented businesses, is focused on unveiling this situation. Max India Ltd. is one of the largest private sector service companies in India. A visit to their website indicates a clear seven point agenda to serve human capital. From providing meaningful role to individuals to measuring performance objectively and paying fairly, the company aims to practice a carefully developed charter for the greater interests of their human resources.
"Max India's operating model is to have all business vested in its subsidiaries. Our manufacturing unit at Okhla in New Delhi forms one of our most vital SBUs. We depend majorly on blue-collar employees for that unit. The ratio of blue-collar to white-collar employees, is 70:30. As part of our operational structure, we have integrated all our manufacturing operations in a single location and largely have people from similar ethnic groups," explains Thakur.
He adds, "Being a large unit, the issue of engaging blue-collar employees is crucial to us. We work through forming employee committees and empowering the employees by making them a part of these committees and giving them decision making powers. Not only does this produce high engagement levels amongst committee members, but also creates a positive buzz about the particular initiative through word-of-mouth."
The notion of 'labour' as we know it, no longer exists. The blue-collar worker today is skilled, tech-savvy, ambitious and as much a part of modern India's consumerist culture as any other segment of society. The nature of work for the blue-collar employee has also changed over the years. Previously, painting car bodies would be the job of the blue collar. Today, handling the painting robots, is the task at hand.
Thakur feels that practices should be put into place to ensure that the interests of blue-collar workers are protected.
He emphasizes, "To be able to communicate with blue collar employees, it is important to use tangible and interactive mediums. Often, the communication mediums we use are event-led. For instance, if we want to promote the feeling of social service, then we would do it through an event, say a blood-donation camp, which will be organized by the employees themselves. This sense of ownership leads to the message being internalized."
Worker empowerment and job enrichment
Managing people is difficult especially when the nature of their work and workplace environment is fundamentally different from the Manager's. Despite efforts of team building, worker empowerment and job enrichment, there still exists a barrier between employees and management.
"Most organizations do realize the importance of integrating this group in every possible way. Through town halls and engagement sessions, leaders attempt to address the concerns of blue-collar workers. Opportunities for them to blend in with the rest of the workforce and to join the higher levels based on high performance measures are catered to. The workers are included in most organizational communication, official connection programs and every viewpoint is considered during decision-making," Aniisu points out.
Action vs reaction
When asked how responsive blue collar workers are to Max India's event led initiatives, Thakur says, "If you use event and engagement based tools, then the blue-collar workers are more responsive. From my experience, creating a sense of involvement amongst the blue-collar employees can help register the message far better. They feel valued and wanted, which helps break the class-divide that invariably develops amongst the white collar and blue collar work force."
A hopeful outlook
Nitin and his team are optimistic of blurring the great divide between white collar and blue collar employees and are committed to changing the blue collar work landscape.
"India Inc's mindset towards the Internal Communication function and managing the blue collar workspace has undergone a change. However, this function cannot be self-serving. It will get importance and weight only in those companies and sectors where it has the possibility of making the maximum impact."
Could the gap between the employee who irons his shirt first thing in the morning and the worker who wears fresh ones only once the whistle blows, be narrowing? If communicators like Nitin have their way, it just might be possible.
—
A global stage for leadership lessons at the 2010 World Cup Final
By Karuna Kumar
The hearts of billions of football fans skipped a beat when Andres Iniesta kicked off the ball in Soccer City, Johannesburg and scored a half volleyed shot from a pass by Cesc Fabregas, defeating The Netherlands 1-0 and giving Spain their first World Cup title. What a moment it was in sports history!
The 30-day pageant had finally come to an end. The triumph of Spain was splashed across all media and loud fanfare and cheer filled the air. Spain relished the honour, giving coach Vicente del Bosque his winning moment.
From the football pitch to the boardroom
Looking at that triumphant win retrospectively, there was more than one lesson to be learnt; lessons that reflect on managerial and leadership skills that can be taken into the corporate space.
An interesting observation for the discerning manager would be the uniformity in the style of playing, the techniques used and the strategies adopted by the football teams throughout the 60-odd matches played during the World Cup. One could say with conformity that a certain level of standardization had been adopted into the game.
According to Permjot Valia, an angel investor and owner of the fund management business, Flight and Partners, "There is a global feel that has permeated into the game. Most of the players have travelled outside their home country and have played in foreign surroundings. For me, that is crucial. Talent should travel outside their home country as that makes them more adaptable and flexible."
Today almost all football players are playing for clubs all across the world. They learn and adapt to the best playing techniques and understand each other's strengths and weaknesses. The tools to compete with have become more accessible which invites more competition, making it more fierce and strenuous.
So was Spain's win expected?
"I always believe that teams that have too much talent do not do well. Superstars bring big egos onto the team, which are difficult to handle. But Spain proved me wrong," Valia admits.
On a different note, Rob Sheldon, owner of the Kew Park Rangers Football Club, categorically states, "I always knew that Spain would win it. They are highly trained, levelheaded players and work well as a team." Sheldon was so confident that he even put a bet on them.
Teamwork
Spain's victory was a strong example of the importance of teamwork to reach a greater end.
"A great team is one where the players can hold the ball well, defend well and score good goals," explains Sheldon.
The rules of the game are the same for sports and business; what is different is merely the stage where the players perform. As an attribute in business, teamwork must be given as much significance as other attributes of individual excellence.
"France (fell short) because they were not a team. There were many internal issues between players and a distinct backlash between the players and management," Sheldon adds.
Valia says, "For me, teamwork is what synchronises the effort and gives it a direction to move forward. It is as much a crucial element for football teams as it is for management teams. Helping each other overcome mistakes and obstacles together is key to a winning team – whether it is sport or business."
Collaboration
Along with teamwork comes collaboration. "The Spanish team may have had seasoned goalkeepers, great ball jugglers, sound dribblers and strikers, but if these individual talents had not blended into a team, they would not have been able to win the World Cup. Teamwork is the key to fine performances," Sheldon points out.
Just as the country is bigger than the President, so is the team bigger than the individual. What differentiates a group from a team is the sense of interdependency. In a team, each one is dependent on the other to perform and build a level of trust with each other. That's the word "team" in its essence.
"In business we need to ensure that everybody understands what they need to do and that they feel the same sense of responsibility towards the company goals. You need to make people realise how they fit into their organisations," Valia explains.
Failure breeds success
A pertinent question here is, was failure the key to success for the Spaniards? More often than not we concentrate too much on the successes than the failures. Without the backbone of many wins, Spain had a modest start in the World Cup finals. A defeat at the hands of Switzerland in the first match was less than motivational.
"I consider the loss to Switzerland as a miracle in disguise for the Spanish team. A sense of loss unites people. It makes them take notice of their weaknesses and work on them. The presence of the external threat works well internally. They all understand that if the team doesn't stand up together and fight, everybody is bound to lose," Valia says.
Leadership
Leadership plays a key role in any win. It is a leader who sets the tone for the success of the team.
The leadership style of del Bosque is evidence to true sportsmanship. He laid down essential lessons for the leaders of the corporate world. It is not just about passion, rivalry and emotion; it is all about bringing out the best in people. Having won five league titles himself, del Bosque had a measured approach towards the win. A conciliatory nature enabled him to deal with the star- studded dressing rooms and maintain the unity and performance levels through the game.
"I think what worked in his leadership style was that he kept his emotions at bay from the players. Unlike others like Maradona, whose emotions were all over the place, he held his calm throughout the game," Sheldon notes.
Valia adds, "Vicente had an indispensable role to play here. He is a coach who draws on the knowledge and experience of the players to inform his decision-making. His cerebral nature and composure led the team players to a strategic win. He is a fine example of elegant, effective and collaborative leadership."
Insurgents vs incumbents
The corporate world can be divided into two: incumbents and insurgents. Incumbents refer to companies dominating markets, while insurgents refer to those struggling to survive and aspiring to outbid incumbents.
The one lesson that stands out through the World Cup is of unknown insurgents having the capability to unseat incumbents, almost overnight. The win of the Spanish team, a team that has only two European championships and one Olympics to its name, has demonstrated this lesson quite illustratively through the various games.
Working right
Nurturing players from a very young age seems to be the mantra for successful teams. There are no shortcuts to developing talent and reaching the top. It is a process – a gradual one. Inculcating an environment of sound professional growth and learning and investing in the training of talent, is a wise decision on the part of managers.
"It is often thought that the more money that is spent, the better the outcome of the game will be. This is a faulty thought. Real Madrid Football club usually acquires a surfeit of expensive players, but most of the players in the Spanish team were from Barcelona, a club that has always taken a more academic approach to football," Valia points out.
Sheldon, a devoted Arsenal fan, adds, "I think it is more about choosing the right players and training them right."
Passion
Motivation is the magic that makes things work. An authentic relationship between team members encourages a positive environment and motivates players to walk that extra mile. A streak of passion with a few great talents is the perfect recipe for a winning team – on and off the football pitch.
—
How retail giant Marks and Spencer engages and develops a winning work force
By Karuna Kumar
It was a peculiar building and in a casual glance, seemed to me, to be under construction. That was my first impression of the Headquarters of Marks & Spencer at North Wharf Road. Inside, it was anything but that. A towering glass building with yellow coloured pillars and a huge entrance with blue-collared men and women running in and out.
As I waited patiently to meet Tanith Dodge – the woman behind the company's laudable employee engagement statistics – I noticed how every nook and corner of the office conveyed a sense of belonging. Seated beside a group of Marks & Spencer employees chatting about the sunny weather and their weekend plans, the environment seemed quite relaxed.
A huge LED scroller explaining a new initiative introduced in the organisation was an appropriate prelude to my interview with Dodge. She greeted me with the company's progress report in hand ready to discuss the inner workings of the legendary organization – 126 years old and a true benchmark in the retail sector.
It was through a partnership between Michael Marks and Thomas Spencer, a cashier in Yorkshire, that Marks & Spencer was born. A policy of selling only British made goods made M&S stand out in its reputation in the 20th century. Today, it has over 21 million people visiting their stores each week.
Core to an organisation that has survived two world wars, a depression and several recessions including braving the recent credit crunch are the employees who carry the organisation on their shoulders. As Director of Human Resources at M&S, Dodge oversees 76,000 employees in multiple regions and has worked with the company for 2 years.
"Ever since I started working in HR, the role of HR has evolved. In the 70s it was more about welfare and industrial relations. HR now plays a much more strategic role for the business and is focused on the people agenda", Dodge explained.
Challenges and key tools
Internally, challenges are common given the size and scale of M&S. Some of the most significant ones, according to Dodge, are maintaining customer focus and employee engagement.
"Responsible leadership has always guided us to ensure that our employees are fully engaged in their place of work. We are genuinely interested in our employees well being. We employ extensive research tools to understand our employees and learn about who they are and what they want. We earn the trust of our employees and do not take it for granted. That is the DNA of our organisation," Dodge pointed out.
Looking at the numbers, the admirable work ethic appears to be paying off. In 2009, the retailer's employee survey, 'Your M&S, Your Say', revealed its highest scores in staff attitudes towards the company, their managers and their jobs. Almost three-quarters (74 per cent) of the scores were positive despite the announcement of job losses, 27 store closures and the capping of the company pension scheme at the beginning of 2009.
M&S has been collecting and acting on staff opinions via the survey since 2006. "The survey is now also used to collect specific feedback on managers, to ensure that they are provided with feedback from their direct reports, as well as their departments, on what is key to increasing employee engagement," said Dodge.
Plan A
In January 2007, M&S launched 'Plan A' – setting out 100 commitments on the most important social, environmental and ethical challenges facing its business. These commitments extend across 5 pillars of Plan A, namely: climate change, waste, sustainable raw materials, fair partnership, and health. A current report on the implementation of Plan A states ,"Plan A, three years hence, has been able to develop new products and services to help our customers live more environmentally friendly lives, has made a bigger contribution to local communities, engaged our employees and saved £50m this year."
The commitments outlined under the Fair Partner pillar of Plan A suggest how new ways of engaging employees have been put into place by M&S. Encouraging staff to volunteer in the community and offering them free home insulation have been two such initiatives. "This is a step undertaken by the company with an aim to raise the morale of the employees and increase their motivation in implementing Plan A," remarked Dodge.
In addition, M&S has launched an employee well-being portal to help people make beneficial lifestyle changes.
Reorganisation of the HR Department
Perhaps one of the most profound internal achievements Dodge has overseen has been the creation of centralised People Policy Support Teams – a system that efficiently manages employee relations across hundreds of stores. "Duplication of effort was what we wanted to work against. From administration to training to addressing employee grievances, there is a lot that HR manages on a store-to-store basis. There was a lack of centralised policy so I wanted to encourage shared learning and a platform for best practice."
That platform included a database for HR managers identifying key solutions to common problems encountered at stores as well as a centralized HR hub, resulting in the reduction of time spent on certain issues. "Managers can now call dedicated HR hubs and file queries, whilst referring to case law examples where the same problems have been encountered," Dodge explained. In total, there are 10 hubs, linking 65 HR professionals and 47 business partners.
The result of Dodge's efforts has been a consistency of approach which has enabled line managers to take greater responsibility and have performance-related conversations with the staff.
'People Thursday' is one of the innovative transformation projects brought about, where managers in all stores set aside time to deal with 'people issues'.
Lead to succeed/Lead to manage
Investing in good people is something Dodge considers central to the M&S business. One of the talent initiatives she has introduced has been 'Lead to succeed' aimed at developing leaders. It is targeted at 350 most senior managers.
"The program focuses on developing their core attributes and helping them to internalise M&S' values as a leader. We have designed it with the challenges being faced by M&S in mind and we're supporting it with essential coaching," Dodge explained.
She added, "Since launching in 2009 the program has been a huge success. We have witnessed development of our senior managers and the way they challenge problems within the organization." So how does one assess the leadership skills of managers at lower levels? "For the other levels of management, we have 'Managing for change' and have initiated leadership programs at all levels. We have developed a holistic approach on talent investment,'" Dodge pointed out.
With the most recent employee opinion survey receiving a response rate of 94%, M&S' initiatives seem to be working. "The score on positivity was 74% and this is the highest employee response we have had to date," Dodge revealed.
Looking ahead: Project 2020
"Project 2020 is a big project for Marks & Spencer. It is an initiative that is designed to bring about improved change in the way we operate. We have reviewed our strategic priorities and have set long-term aspirational goals," Dodge explained.
The focus of Project 2020 is to restructure M&S' supply chain, implement new information systems and improve operational execution. Particular focus has been given on its multichannel operations and brand communication with customers.
As a recent report suggests, M&S has been implementing numerous programs with the purpose of 'upscaling' communication. Focus groups and conferences are conducted on a quarterly basis. "This initiative will be working from top to bottom-down through the hierarchy chain. Work needs to be done in the area of change management and how senior leaders make change happen as a part of their leadership strategy," Dodge explained.
Meanwhile, Dodge continues to look at the bigger picture. "We are looking at ways of making our HR function more consistent internationally, whilst schemes such as performance management and Lead to Succeed have already been rolled out globally there is still more work to do. It is important to anticipate future demands and prepare ourselves for the challenges that lie ahead."
—
Profile : Adrian Cropley
By Karuna Kumar
Charged, enthusiastic and an impassioned globe traveller is how one would probably define Adrian Cropley. From leading IABC Victoria to doing voluntary work to opening a retail store (and eventually a restaurant), Cropley is a man of diverse ambitions.
Having immigrated to Australia in his youth, Cropley was exposed to change at a very early age. "I migrated to Australia at the age of 11 which was quite a traumatic change for me. I think adjusting to change is something I carry from my schooling years," recalls Cropley.
His academic roots ultimately led to a path toward human resources and a job at Ericsson where he would become the Director of HR.
"It was about 15 years ago, when I was told to take up the role of internal communications from the then-CEO. My first response was, 'what on earth is internal communications?'"
To best understand the concept, Cropley went in search of delivering the true meaning to internal comms.
"It was not about the company newsletter and organizing events, it was more about strategy. I introduced a strategy for internal communications that got adopted on a global level and I travelled places to execute that strategy," he explains.
One of those places was Asia, where Cropley grew his team to 8 with a strong focus on the intranet.
Ahead of his time
At a time when few companies fully understood the value of effective internal communication, Cropley was busy creating a robust strategy for executive communication.
"I developed a strategy to produce a number of communication channels dedicated to the CEO. We developed a personalised CEO brand called intouch to communicate with the employees. This included regular news updates through e-mail and arranging breakfasts and lunches as an open forum for employees to approach the CEO and share ideas, views and opinions."
Intouch TV was also created to broadcast interviews with the CEO and discussions about a product or service.
Cropley's multi-channel initiative led to an IABC Gold Quill Award in 2004.
Introduction to IABC
After working with Ericsson for 15 years, Cropley accepted a redundancy package and went off to see the world. After his globetrotting, Cropley set up his own consultancy,Cropley Communication and developed a relationship with IABC. "I started my association with IABC because of its sheer exposure to communicators across the globe. I was introduced to a network of peers who could help develop me as I grew a new business endeavour."
Cropley started volunteering at IABC Victoria, Melbourne and then acted as Vice President for IABC Victoria the following year. At the same time, he became involved with the Asia-Pacific region. Thereafter, Cropley applied for the International Board of which he now serves as Vice Chair. In his current role, Cropley brings profound international exposure and an innate curiosity to understand various cultures.
For example, in spite of organizations becoming more global in their communication strategies, Cropley thinks companies need to think locally within the cultural contexts. He does not support the view of applying the same approach in different countries and believes in tailoring strategies to varied cultures. It's not only about language and translation; delivery and tone are also important during communication.
"If you are working in the Philippines, the one thing you will notice is that people are always happy. Feedback there is given in a very humourous way. On the other hand, Japan and China have a very formal culture. Status is very important in those countries," Cropley points out.
Helping achieve global best practices in internal communication
One of the most interesting projects Cropley has worked on of late has been helping Unilever develop its internal communicators as the company positions itself to doubling the business by 2020.
"Last year, I met the Head of Internal Comms of Unilever for the Africa, Asia and Middle East Region, Helene Bradley-Ritt. Her goal was to develop her communicators and take them to the next level. The underlying idea was to develop a global best practices strategy for internal communications teams inside the organization. Along with the development opportunity for communicators I saw an opportunity to get Unilever to partner with IABC and its accreditation program".
IABC partnered with Unilever to deliver an accreditation program for internal communicators from 9 different countries across Asia, Africa and the Middle East. The coalition of Unilever and IABC brought about an accreditation program that would align the way in which communication is delivered inside the company.
Cropley explains:
"We reached out to senior level managers across various regions and started some development programs. We then lined up the portfolio with two things – one, a project that the communicators would implement in Unilever and two, a review of the communication function with some learnings and recommendations of what needed to change. We decided to take the IABC accreditation process and matched it up with a business need and a business outcome."
Cropley developed both a week long residential training program with Unilever plus virtual models for marketing, media relations, corporate social responsibility and ethics. IABC also helped Unilever to develop an accreditation exam for their communicators that included oral presentations. Cropley and the IABC accreditation council worked to deliver a new model to align communications right across the company.
"Having in-house training really supports the development of communicators and also raises their status across the organisation. We also undertook a measurement process to understand how the accreditation had made a difference."
For Cropley, the experience has been simply amazing with plans to expand the project in Asia in September.
Ready and determined
As Vice Chair, Cropley is looking forward to carrying out his new role at IABC.  He sees tremendous growth potential in regions like China, India, Brazil and Mexico.
"I will be looking into two things during my tenure as Vice Chair – one is how we grow our membership globally and build strategic links across the globe and the other is how we further build on our accreditation and development offerings to grow our business. We need to use our content and share it strategically with our community. You will surely see a lot of momentum over the next few years."
—
Voltas achieves swift and efficient internal communications
By Karuna Kumar
Driving through the second most populous city in the world, surrounded by over 14 million people, it's eye-opening to see how daily life moves on in Mumbai – a city that generates the highest GDP among the cities of Central and South Asia.
According to the latest statistics, Mumbai, accounts for 25% of industrial output, 40% of maritime trade and 70% of capital transactions to the Indian economy. It houses the most significant financial institutions such as the Reserve Bank of India, the Bombay Stock exchange and the National Stock exchange.
Being the financial capital of India, the need for strong internal efficiency and employee productivity is indispensable for businesses- small or big. To enquire about the current state of internal communications in India and the scope of issues around employee engagement, I stepped into the Mumbai office of Voltas to interview Mr. B.N. Garudachar, the company's Head of Corporate Communications. Founded in 1954, Voltas today stands as the world's leading engineering solution provider and project specialist and is a part of the TATA group. Voltas' operations have been organized into three business clusters, namely – Electro- mechanical projects & services, Engineering products & services and unitary cooling products.
From a general picture of internal communications in India to the various employee engagement initiatives undertaken by Voltas, Mr. Garudachar spoke with a passion that defeated the doubts I had about the seriousness with which Indian companies approach internal communications.
KK. How significant is internal communications to organisations in India?
BNG: Internal communications have become a critical part of task held roles. Post liberalisation, the task before India was to make organisations very competitive and focus on the right businesses that would drive growth. We realised that the only underlying source for that is operating efficiency. The need was to drive a better productivity out of our guys (employees).
When you need to get better productivity, you need to communicate, you need to motivate and need to make sure the employees are positively engaged. Hence with a view to improve internal efficiency, internal communications became very important for Indian organisations. The spending on internal communications also increased over time. If posed with the same question 15 years ago, I wouldn't have considered it important enough but today the scenario is just the opposite.
KK. When did this realization dawn upon Indian companies and what drives it?
BNG: The real realisation began five to six years back. Unfortunately, India was not in a competitive environment till 1995. We were in an environment consisting of domination of a few companies.
What drove it was the need in the market place. The need today is to have extremely motivated, committed and contributing employees. Today their contributions are better recognized as the work environment is moving towards performance. Almost 40-50% of the take- home comes from the employees' performance. Hierarchy is slowly going flat.
In addition, the importance of employee engagement has increased at a time, where there is nothing called a 'loyal' employee. There is a meaningful employment on both sides. Organisations need to ensure that they retain people and make employees company ambassadors who carry a positive message to the external world. The employees have now taken the role of partners in the organisation.
KK. Moving to your organisation in particular, when did Voltas feel the need for internal communications?
BNG: A few years ago, the need in the organisation was to shift the attitude of the staff towards being performance-oriented. 1995 was the first time when the company showed a loss. The need was to move towards profitable and sustainable growth. We underwent the whole process of understanding a new direction. We shifted our focus from being just a development and technology- oriented company to a service-oriented engineering company.
The first phase was to communicate that it is important that each one of them contributes so that the company develops.
The second phase was to communicate to our employees that we wanted to become more a service provider than a product manufacturer. We wanted to add value to the product for the consumer.
During the third phase, we started educating people as to what and how they could innovate. We had a series of campaigns talking about what innovation is all about and encouraged staff to contribute their own ideas to the company.
We are now leading a new campaign – the idea being to improve internal efficiency. We have categorized that under an acronym called SWIFT.  Each of those letters stand for something in the organisation.
Our first initiative is to create awareness towards what would create a new Voltas act. Second, we want to recognize that people are already swift in their field of activity. We are doing that through a contest in which we are asking employees if there are any initiatives that they have undertaken that qualifies as SWIFT attributes.
The winner gets a lunch with the MD, coverage in all internal magazines, a SWIFT t-shirt and other small incentives.
The third phase will take place after 4 weeks, when we will be sharing the inputs vis-à-vis employees will be encouraged to offer their ideas in helping Voltas to swiftly address the issues.
KK. So what is the purpose of this exercise?
BNG: It is purely for engaging them. You are creating excitement and subconsciously sending them messages. The idea is to organise programmes through management that meet certain needs, create an environment where employees become engaged with these issues and do so sustainably.
KK. What are your usual channels of execution?
BNG: We have:
Traditional print
We execute our programs through the use of traditional media like posters, brochures and computer wallpapers. We also have a Voltas board and Voltas notes. This communication runs through all our companies globally, not just in India.
Till yesterday, our communication was targeted to permanent employees. Today we have realised that 50% of our staff are on contract basis. So we have extended our reach to those employees. Our online presence is limited at the moment. We are re-engineering our intranet to build a new system that is much more interactive than the previous one. After that, we might experiment with social media.
Walk the talk with the MD
In addition, twice a year – once after the half-yearly results and once after the annual results – the Managing Director speaks to all his employees via a broadcast. This year we have exposed not only the MD on that platform but also the complete corporate management team. They all sit together for a Q&A.
The format of this presentation is such that the MD reviews the past performance, recognises achievements, identifies the future challenges and suggests future direction in issues that relate to corporate intervention. After the 30 minute presentation, there is a Q&A session for 1 hour and 15 minutes. Anyone in our branch offices or project sites is invited to participate via a chat mode.   This is the most effective way of engaging employees – it is a very open forum and people can ask any questions they want.
Voltas Anthem
Launched 2 years ago, our Voltas anthem has done wonders for our people. It is sung by Voltatites and is played before all our broadcasts. Our employees actually stand when this is played. Such is the power of the anthem in uniting people.
The melodious radio – pride of the past
In the past, we created a Voltas Geetmala (radio) and we sent messages through this medium. It used to be played in the canteen mixed with various songs. The normal player was used for this and the production was outsourced.
Voltas management meet
Another approach to our problem solving is the two-day 'Voltas management meet'. 70-80 people representing all levels and classes in the organisation attend this. In the 2-day meet we share various issues that impact all businesses. We sit together and design a path towards the solution, taking a 'bottom-up' approach.
All these initiatives are being undertaken against the backdrop of various company goals. By 2012, we wanted to be a Rs. 10,000  core company (of which Rs. 7000core would be contributed by organic growth) with a 10% profit. Considering the growth accomplished in the last few years, we are hopeful of reaching our organic growth targets.
KK. Does communication change when speaking to white collar and blue collar employees?
BNG: Absolutely not. It is communication at the end of the day. Nothing much changes in that regard. We don't believe in a white collar and a blue collar employee. We feel that organisational issues are one. The response has to be the same for all employees, unless there are issue-based activities within the factory. Also, most our employees understand English as this is a service-oriented company. Just 1% are Hindi speaking.
KK. How do you see the future of internal communications in India?
BNG: This is a field that very few people understand. For example, no advertising agency would understand internal communications. There is a big need for internal communicators in organisations. We need to develop teams who understand internal comms and work in partnership with the employees to aid organisational efficiency.
For us, being a company that is service-oriented, engagement is necessary. The challenge for us is much more than in the West as we are multi-cultural, multi-lingual and have multiple classes. However, Asia is growing into a huge market and I can say it with much certainity that it is, slowly but steadily, successfully dealing with all barriers in the pursuit of achieving internal efficiency and productivity.
—
Mastering the art of body language
By Karuna Kumar
According to social anthropologist Edward T. Hall, "In a normal conversation between two people, less than 35% of the social meanings are actually transmitted through words. At least 65% of it is conveyed through the body."
Hall's thoughts were the underlying bed for Carol Kinsey Goman's one-day workshop in London, presented by simply-communicate in late May. From understanding varied aspects of kinesics (the 'voice' of non-verbal communication) to real-life examples of the effective use of body language, Goman offered attendees the opportunity to tackle the subject with a deeper understanding.
Beyond the anecdotal and observational validity that non-verbal communication has scored over time, there is now scientific validity to back it up: neuroscience staunchly supports the theory of kinesics. Winning or losing a negotiation is strongly influenced by unconscious factors that lay hidden in our body language.
The language spoken through the eyes, the body posture, the tone of voice and the motion of the body is one that acts as a profound communication tool – provided it is learnt and practiced in earnest measure.
Leadership communications
Goman's workshop began with a look at how people perceive a leader's body language. In those instances, the kinesics are often read unconsciously and quickly, often resulting in personal and cultural biases. Goman pointed out that the regard for context is the most essential in reading and evaluating the right signals: "Noting the incongruence between verbal and non-verbal messages plays a pivotal part of reading the leader's body language."
The first set of non-verbal cues people look for in a leader are warmth, empathy and likeability. This resonates through open arms, forward leans, smiles, positive eye contact and eyebrow flash.  On the flip side, a leader sends signals of disinterest or rejection by leaning back between conversations, crossing arms and legs, turning the torso away and narrowing his/her eyes.
The second kind of non-verbal signals that people expect of their leaders are ones of power, status and confidence.  More often than not, the amount of space the leader occupies in his/her style of seating is clearly reflective of the power and status he/she holds in their chair.
Venus and Mars: Gender differences in non-verbal communication
During Goman's engaging workshop, she explained how the strengths and weaknesses among men and women act differently. The ability to read body language, grasp listening skills and develop a sense of empathy are women's key strengths. However as leaders, women are sometimes seen as over-emotional, meandering and non-authoritative.
During the discussion, workshop participants struggled to articulate the qualities of the male gender. This could perhaps be credited to the disproportion of the male to female ratio in the room.
"They do have a knack of being direct and rational that works in favour of a leader. Though, it cannot be denied that their directness can often take shape of a blunt attitude and being insensitive," one attendee pointed out.
To this, Goman added, "The height and space occupied by men conveys a certain dominance and power which is another aspect that works for men as leaders."
Deception detection
The audience participation continued as attendees were asked to determine who – out of two participants called to the stage – was lying and who was telling the truth.
Goman explained how the body language of a liar is actually just a stress response: "A decrease in illustrators with an increase in pacifying gestures along with pupil dilation and face touching are common signals of deception detection."
Body language from head to toe
When it comes to picking up non-verbal cues, feet are the most important part of the body to watch out for. Why? They are a reflection of how the mind is working. When the mind is inclined to move out of a certain place, the position of the feet should be noticed as they tend to face the door.
Proxemics
Touching upon proxemics  – the study of measurable distances between people as they interact – Goman pointed out, "Leaders often intrude into the space of their employees when they interact with them. They tend to overlook the leaning back of the employees as a clear signal of intrusion into their space."
Goman's points hit close to home as attendees amusingly shared their own experiences of their bosses' idiosyncratic styles that felt so profoundly intrusive.  Of course, in true simply policy, people's confessions did not leave the confines of our workshop walls!
Let's shake on it
To conclude a day that saw practical tips, enlightening observations and personal experiences into reading non-verbal signals, Goman ended her engaging workshop with the keys to achieving the perfect handshake.
•Stand.
•Be the first to extend your hand.
•Square your body.
•Maintain eye contact and smile.
•Line up web to web and palm to palm.
•Hold – and speak before breaking.
•Step back – and don't look down.
These were her final standing orders!
—
How CEO Garry Ridge has made WD-40 a well-oiled machine
By Karuna Kumar
Maintaining the legacy of a 57-year-old company is difficult enough, however driving it towards an employee retention rate three times the national average while significantly growing sales is an achievement that deserves much admiration.
We caught up with the man responsible for those feats, CEO Garry Ridge, at WD-40's headquarters in San Diego, California. While the Australian-born Ridge oversees the trademark name of the ubiquitous household spray used by millions across the globe, the company also owns several other brand names such as 3-In-One Oil and Carpet Fresh.
The rise from down under to the top
Swapping one warm climate for another, Ridge left Australia and arrived in the in San Diego in 1994 to become the Director of International Operations at the company.
From there he was elected as Vice President of the organisation in 1995 and finally, took the position of the Chief Executive Officer in 1997, where he found himself in a consumer facing company producing a product that had gradually found a place in toolboxes around the world.
"When I moved to the US, the three words that became vital to me were, 'I don't know'. I accepted that I didn't know and accepted that if I did know, things would get better. I surrounded myself with people who were competent and gave them the freedom to be heard. I always listen with the intent of being influenced."
Back to school
In his early 40's, Garry Ridge went back to the books and completed his Masters in Leadership from the University of San Diego. It was there that he met Ken Blanchard, the management expert and co-author ofThe One Minute Manager, the management bestseller that has sold over 13 million copies worldwide. So taken was Ridge with Blanchard's teachings, that together they co-authored the well received book, Helping People Win at Work.
Through his academic experiences Ridge reaffirmed his ideologies of leadership and developed his theory – 'I'm not here to mark your paper, I'm here to help you get an A.' "It is all about helping the employees to get an A and not follow some normal distribution curve. I do not build failure in the mentoring of my employees. Instead, I create a culture that encourages knowledge sharing and non-stop learning."
Leading a growing company
So, what are the key drivers that have enabled WD-40, to grow from $152.7 million in turnover in 2000 to more than $292 million for 2009?
"I have advocated three strategic drivers for the company: brand, border and business channels. Including more brands in our portfolio, targeting more opportunities internationally and selling our products in multi-trade channels are issues I address consistently," Ridge explained.
Under Ridge, WD-40 has become an internationally acclaimed brand that has more than 50% of its operations outside the US and has been growing at a 20%+ compounded annual growth rate for the past five years.
Maintaining a globally engaged work force
In a company like WD-40, it's no surprise that engagement levels are high. Contrary to the shocking statistics of only a third of people in the United States going to work engaged everyday with two-thirds of employees not engaged or actively disengaged, WD-40's figures present a welcome contradiction to the norm.
A global employee opinion survey revealed that a remarkable 93.1% of the employees in WD-40 are engaged with 96% of them demonstrating trust in their supervisors. "The employees must feel they are in a trusted environment and among people who want them to succeed. We put the responsibility of the employee development on the leader," Ridge pointed out.
Stats aside, it hasn't always been a bed of roses for Ridge and WD-40. "I had a lot of pushback, a lot of resistance but I knew that if I could create an atmosphere where the employees had a clear vision, clear guiding values, an exciting future in front of them and people who wanted them to win – we would win. There were times when I wandered but I never gave up."
For his 300+ employees, Ridge has initiated innovative ways of communicating and motivating his staff. Besides sending his employees a daily quote of the day and signing off his emails with 'Believe in yourself ', he gives an assurance to his employees that he will address each of their grievances within 24 hours.
"Communication doesn't come in one flavour. The key to communication is the permission to communicate. There are four things that come into play here: care, candidacy, accountability and responsibility. I care about my people. I take a deep interest in who they are and what they do. I consistently take initiatives to make them feel cared for. Ultimately, communication is all about consistency."
Ridge also believes in dual focus. The well being and personal growth of the people he leads is as important to him, if not more, than the organisational goals he seeks to achieve. "When you lead at a higher level, the development of the people you are leading is just as important as the performance and results you desire."
To err is more than human
With such a down-to-earth approach to his work, Ridge has set a benchmark for leaders of organisations around the world. His strategies and model of leadership can act as a guideline for many others in the business. "The attributes of a good leader start with identifying yourself as to who you are. Having a good look in your own mirror. In addition, a clear, concise and easily explainable vision and a clear set of values must be implemented in the organisation, the violation of which should not be allowed at any point."
Opening the door to learning is significant to the growth of WD-40. Ridge ensures that his employees share the positive and negative outcomes of any situation. "At WD-40, we don't make mistakes. We have learning moments."
WD-40 as a brand has reached out to varied markets worldwide. From direct markets like the UK, the US and Australia through to relationship building markets such as China. Ridge professes a 'tribe' philosophy is the underlying current for his success. "Tribes are enduring. They believe in learning and teaching. They also bring in a sense of belonging and think about longevity. We all here, belong to the WD-40 tribe."
The agenda before the team is global extension, developing around categories, joint ventures and acquisitions and leveraging the trust people have in the WD-40 brand. "For brand extension and border expansion, I have devised a special team called 'Team Tomorrow' that is focused on only one thing: tomorrow," Ridge explained.
Sniffing competitors
Of course, success never comes alone; it often brings stiff competition, with more competitors wanting to get a slice of the cake. Though for the rather calm and composed Ridge, nothing seems to unnerve him. With total employees numbering just over 300, Ridge has managed astonishing annual sales figures of close to $300 million in 2009 – working out at almost $1 million per employee.
While not every organisation can be a WD-40 and not every manager can wear the shoes of Garry Ridge, the point that this CEO constantly makes is that leading at a higher level is about treating people the right way by providing the direction, support and encouragement they need to be their best.
He staunchly stands by the theory that it is not about marking the paper, instead it is about being instrumental in the achievement of an A by the employees. The leader must hold himself responsible for the people he leads. The personal well being of the employees and the organisational goals should be pursued with the same vigour and zeal.
Garry Ridge is not among those resting on his laurels, he is focused about the vision and goals of his organisation. He knows he is here to stand as a winner and sustain the winning streak that WD-40 is on. Brand extensions and border expansions are on the agenda, but making his tribe strong enough to face the storms of stiff competition and entering new markets is his constant challenge.
"My dream is to have WD-40 Company viewed as a leadership laboratory for business."
For more insight on Ridge's leadership learnings and expertise, be sure to check out his website, www.thelearningmoment.net.
——————————————————————————————————————————
So what about that name, WD-40?
Norm Larsen, a scientist at the Rocket Chemical Company, San Diego, was attempting to concoct a formula for displacing water and preventing corrosion in the early 50's.
It was on his fortieth attempt that he was met with success, hence the name: Water-Displacement 40. The spray has created ripples in the market ever since.
—
Emerging Markets
Ford Drives into Emerging Markets
Ford: the name resonates with success, reliability and prosperity. One in every five cars carry the blue oval badge if we go by the measure of Ford's total sales across the world. Whilst Ford has kept up to its brand promise, globalisation, competition from Japanese and Chinese counterparts and lean production in the supply chain management have compelled the auto giant to re-think its strategy going forward.
Ford's operations have suffered not just in the US but also in Europe. After years of profits, the company faced a loss in its market share. In Europe, the company operates 35 plants and employs almost 100,000 people, making Europe one of the most competitive markets for Ford. What makes things worse is the ubiquitous market fragmentation. Amid the economic recession, demands of consumers are seeing a shift towards small city cars. Volkswagen, Renault and Peugeot have seen much success while Ford has continued to plummet.
Restructuring
As Ford evaluates its plans, it hopes to restructure and move up the market.
Cutting costs and moving away from mass production to lean production are just some of the changes that Ford has made.
As globalisation continues to drive the world economy, it calls for organisations like Ford to manage subsidiaries carefully, in an integrated manner and tackle critical decisions around centralisation and de-centralisation.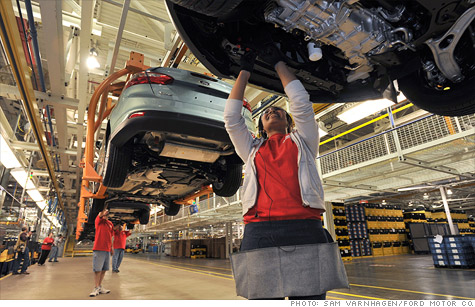 Strategic aims of the company have to align well with consumer demands and the government regulations in regional markets.
Increasingly companies in the west see making acquisitions in the east as a way of getting access to new markets and distribution channels. Additionally an acquisition is seen as financially less risky and saving enormous development costs.
Threat from Japanese exports
A trend that's added to Ford's troubles is the exports by Japanese companies to Europe and the increasing number of transplant factories by the Japanese in the UK.
Ford was the very first unique company to have built car assembly plants outside its domestic base. Ford plants can be found in countries as diverse as Argentina, Brazil and China. However from 1999-2000, Ford began to struggle: difficulties arose from poor model development, excess capacity and a failure to recognise the emergence of new market segments in addition to an inability to control costs.
A disastrous performance
In 2000, Jacques Nasser, the chairman of Ford described the firm's financial performance in Europe as near disastrous as the return on sales was no more than 0.1%. Increasing market share by extensive cost-cutting measures would be the only way for Ford to raise this figure.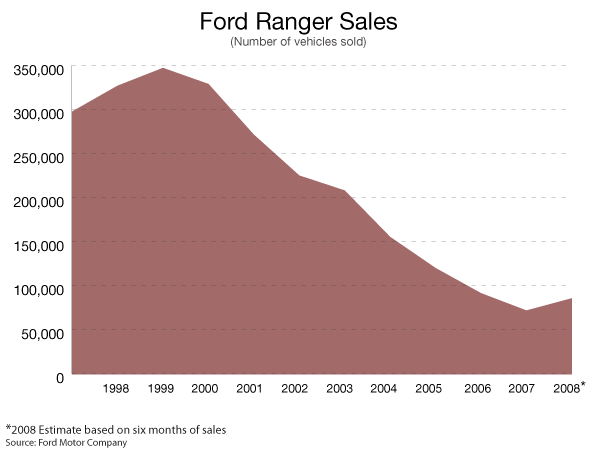 This was despite the positive promises made by Nasser's predecessor, Alexander Trotman, when he decided to turn Ford America and Ford Europe into an integrated global company by merging the US and European operations. His aim was to get rid of 20% of the top managers, instituting no fault meetings and creating multi-functional teams.
Expansion into emerging markets
To increase sales, Ford began geographical expansion in India, Vietnam and China. However this expansion brought along its own share of challenges. This would entail the U.S. and Europe to share power and a change in pricing strategy.
The cost of expansion in Asia had looming effects on its European operations. Making things even more difficult were consumers demanding more for less and giving in far more easily to the cheaper imports from the Far East. However Ford was successful in creating a new strong management team with sufficient experience and credibility to impress the markets and provide necessary leadership.
Leadership differences
There was a distinct leadership difference between Trotman ,CEO of Ford from 1993 to 1998, and his successor, Jacques Nasser. While Trotman focussed on dealing with the nuts and bolts, Nasser remained focussed on changing Ford from a car company to a consumer product and service company, pursuing profit down the value chain. However for this to take shape, cost-cutting was critical.
In order to turn vehicle operations plants into flexible bodyshops, they were all based on modular assembly, located near supplier parks and operating on a three shift pattern.
Entering joint ventures and forging new relationships
What worked really well for Ford was its ability to spread its costs across models, forge new relationships with suppliers and enter into joint ventures. Ford and Peugeot is one such joint venture that helped increase the diesel engine production. In addition, Ford and Daimler-Chrysler agreed to an engine sharing deal for European versions of the Ford Explorer.
Using social media to build new relationships
The most recent reports have suggested that Ford has recorded its biggest annual profit since 1999 and due credit must be given to how it successfully engages with its consumers through the use of social media. Personal conversations and points of engagement with customers are critical to the success of any marketing strategy.
Ford posted 11,000 videos, 15,000 Twitter messages and over 11 million social networking impressions as part of an American Ford Fiesta pre-launch social media campaign called the "Fiesta Movement".
The campaign inspired tens of thousands of people by engaging them in an ongoing dialogue with the company.
While there have been a number of such efforts by Ford for customer acquisition, what has been missing is a strategy to extend such efforts in emerging markets and curating campaigns that would serve customers from a particular region. This is essential to cut across geographies and ethnicities and strike a common chord with the local culture.
A workforce exodus?
Japanese carmaker Nissan, Indian-owned Jaguar Land Rover, and General Motors-owned Vauxhall ruled the recently held Geneva Motor Show.
It perhaps left an image of Britain as merely presenting foreign companies with the world's most desirable brands.
An interesting observation of the event was the increasing number of British workers climbing their way to the upper echelons of foreign companies instead of their own domestic ones. This leaves one with a poignant thought. Does expansion into emerging markets by companies like Ford mean a mass exodus of British and American employees to foreign markets? For that, let's just wait and watch.
——
TATA's strategic mapping in the UK
The latest in a slew of reports from the TATA bandwagon has been the successful completion of a multi-year, multi-million dollar transformation project by TATA Consultancy Services at Phoenix Group, the UK's largest specialist consolidator of closed life funds.
Tony Kassimiotis, Managing Director, Phoenix Group, said, "This transformation project will streamline services to improve the experience for our customers and we are delighted with the way TCS and Diligenta have ensured its smooth delivery." This deal stands as a significant one making TCS BaNCS, a major platform in the UK Life and pensions industry.
N Ganapathy Subramaniam, President, TCS Financial Solutions, on concluding the project said, "TCS BaNCS is now positioned with proof points to deliver significant benefits around business process re-engineering, product rationalising and disparate data migrations. A simplified IT landscape not only enhances efficiencies for Phoenix Group but delivers best-in-class customer experience as well."
Is the West being shaped by Asian wealth?
With foresight and vision, the TATA's have grown overseas and are one of the most respected groups outside the country. Ratan Tata's commitment is lauded by India Inc. for taking it international and owning Tetley Tea (2000), Anglo-Dutch Steel Maker Corus (2006) and Jaguar Land Rover (2008).
As is clearly reflective of TATAs' aspirations, it can be said in some respects, that the West is being reshaped by Asian wealth. Intriguing it is to see how investment decisions of the East are invariably supporting and rescuing European businesses.
The economic downturn creates great opportunities for Asia allowing them to pick up distressed assets at knock down prices. If it is any surprise after all, three-quarters of the world's savings come from Asia. In the same breath, Britain earns several times more from such foreign investments that it pays out in dividends.
Jim Wood-Smith, head of research at wealth management firm Williams de Broe says in a recent news report, "Investment into the UK by emerging market companies is booming, with nearly £83 billion being invested here last year by groups such as TATA – now the UK's largest industrial employer thanks to its £9.6 billion investment in buying Jaguar, Land Rover, Corus Steel and Brunner Mond (formerly ICI), as well as Tetley Tea."
"Managers not willing to walk that extra mile" – a cultural difference?
Early last year, Ratan Tata expressed his concerns over the difference in the work ethics of UK Managers and Indian Managers. Pointing towards Corus and Jaguar, he said, "Managers at these firms are not willing to go the extra mile in a critical situation, while their Indian counterparts would work till midnight in 'a war-like situation'".
He said "I feel if you have come from Bombay to have a meeting and the meeting goes till 6pm, I would expect you won't say at 5pm, 'Sorry, I have my train to catch, I have to go home'".
"The worker in JLR seems to be willing to do that (go the extra mile); the management is not," he added.
While he wasn't making a generalisation about British management, he did express his disappointment referring to attitudes/behaviours in both companies immediately following the acquisition of Jaguar Land Rover.
His frustration rose from the meeting scenario he described — having flown in from Bombay especially for a meeting with JLR scheduled until 6.00pm, only to have participants leave at 5.00pm sharp – which left an indelible impression on him.
Clearly, significant cultural differences can be seen in working hours and related expectations. The tendency to go home by five or six can be interpreted by Asian companies as showing a lack of dedication and commitment.
Having recognised this as a legitimate cultural difference, not 'work ethic' or a 'commitment' issue, the resolution was to agree 'core working hours' when everyone would be available.
It had been observed that prior to the Tata acquisition, the employees at Jaguar, took immense and personal pride in their products, but the culture was quite entrenched in valuing quality, beauty and perfection over efficiency and productivity.
'We produce beautiful, iconic cars for the wealthy, that can't be rushed,' remained the sentiments of employees, as pointed out by an insider at Tata's.
"So, whilst I don't think Tata's comment that British Managers (at JLR) was a correct interpretation of the real attitudes behind the behaviours, I do think a 'shake up' in culture and work practices was needed to enable the company to regain profitability," the insider adds.
Bidding farewell to the CTO in Wales
TATA's calendar has been embedded with a number of important events in the past week. Besides winning a major contract from Siemens to supply 25,000 tons of quality profiled steel plate for turbine towers, Tata Steel Europe's Chief Technology Officer, Uday Chaturvedi who headed the UK, was given a farewell by the First Minister in recognition of his outstanding leadership during his time in Wales.
First Minister Carwyn Jones, in a recent news report said: "Uday has been an inspirational figure in Welsh manufacturing and I wish him well. In both his role as managing director of Strip UK and subsequently as Tata Steel Europe CTO we have appreciated his personal commitment to support Wales as a place to do business. We greatly value that someone of his standing and esteem appreciates the quality of the Welsh workforce and what Wales has to offer major international businesses."
He added, "Our positive and constructive relationship with Tata will continue to be developed to support the long-term future of the Welsh steel industry."
While appreciation looms large in Wales, at the arbitrary closure or mothballing of the Tata steelworks in Newport, an employee takes a critical view. "It is often with our help and subsidies that foreign companies establish their industries with local workforces only to have them struck down because of prices not being right or problems in their own country."
He adds, "The same would not be true if we had to enter their markets. While Tata is all powerful, we struggle to enter their markets with massive obstacles."
What does Tata's succession mean for the UK
Objective yet cynical reports have been dominating the media regarding the succession of Ratan Tata by Cyrus Mistry, a 43-year-old businessman keeping the job within a complex extended Parsi family. He has now been appointed deputy chairman of Tata Sons and will be heading the group with 425,000 employees. While this breaks the direct line of the Tata dynasty after three generations, control of the group still stays within the extended Tata family.
With the manner in which succession in family-owned businesses has been carried out in Asia, there might be reason for worry adding to the awe and envy at the way the Tata's have been rescuing European operations and the acquisitions they will further undertake under Mistry.
Steelmakers fear the UK could lose its leadership position on issues such as de-regulation and competitiveness, while other manufacturers fear growing isolation from a key market. Tata Steel is considered hugely important to both the local economy as a major employer, and to the UK economy as a whole. It has been able to garner sufficient political support at the local and national political levels.
While Britain has become a global hub in the web of car and engine production, much of it has to be credited to the investments made by emerging markets, in the face of the failure of UK firms to keep pace with emerging giants.